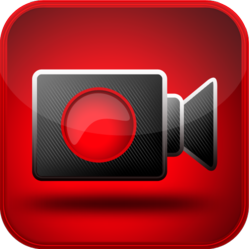 The Remote Camera function allows live recording of up to eight iOS devices over a common WiFi network.
San Francisco, CA (PRWEB) February 03, 2012
Thousands watched the stage presentation of the Video Camera app launch at Macworld 2012. Crowds of all ages downloaded the app and instantly began using it, while thousands more purchased it around the world as word quickly spread. Crowds stood in amazement over this all-in-one revolutionary mobile app.
Compatible with iPhone, iPod touch, and iPad with iOS 4.2 or later, Video Camera allows users to shoot, preview, and edit from the live camera view. The intuitive interface design and unique features make the process simple enough for a beginner, yet powerful enough for a professional!
The patent-pending Live Non-Linear Editing (LiNE™) interface is what makes Video Camera one-of-a-kind. Users can preview and trim clips, and rearrange sequences all while never missing a beat of the action. Adding a Hollywood-style studio intro, titles and rolling credits, as well as background music, are quick and easy—and sharing the finished product via social networks and email is as simple as tapping the screen.
Triple tapping the screen gives more experienced users the ability to control exposure, focus and white balance. Video Camera also features full auto or manual zoom control, just one of many features not available on the native camera.
Perhaps the most impressive feature of Video Camera that left jaws dropping are the unbelievable built-in networking capabilities offering a new concept in movie-making as a social experience. The Remote Camera function allows live recording of up to eight iOS devices over a common WiFi network, each contributing shots from different angles or locations simultaneously. Yes, "simultaneously!" Video Camera allows groups of people to share the video recording experience together in real-time.
Video Camera syncs recorded clips from remote "Player" devices to the "Stage" device, for viewing, switching camera angles, recording and editing with all the features of a video studio on-the-fly.
When done, instantly upload movies to Facebook, YouTube, Vimeo, CNN, or email it—all from within the Video Camera app. This "Best of Show" recipient has truly reinvented the video camera.
As if that wasn't enough to impress, i4software will soon provide its customers the ability to tap into 3G networks via a secure server to deliver simultaneous shooting worldwide. Yes, "worldwide!"
Now available on the App Store for only $7.99. Visit i4videocamera.com to see what the excitement is all about.
About i4software
i4software concentrates on the development of simple, yet powerful and creative applications. Their most successful app, Flashlight, has over one million paid downloads, and over ten thousand five-star reviews. The international i4software development team members have solid backgrounds in developing successful apps and games that are distributed worldwide.
Video Camera name, design and related marks are trademarks of ESS, International Corp, Inc. © 2012. All rights reserved. iPad, iPhone, iPod touch and iTunes are trademarks of Apple, Inc.
###