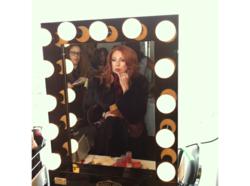 Snow, films, celebrities and parties … Sundance is just a great way for people to experience the Vanity Girl brand.
Park City, UT (PRWEB) February 03, 2012
Vanity Girl Hollywood joined the sponsor line up at the RE:Treat lounge to treat VIP's, celebrities and filmmakers to a mini oasis in the midst of the screenings, invite-only parties and networking known as Sundance.
Celebrities who stopped by the lounge included: Estelle, Allison Janney, Elizabeth Olsen, Emily Blunt, James Marsden, Liv Tyler, Lake Bell, Kate Bosworth, Tinsley Mortimer, Ty Burrell, DeepikaPadukone, Jason Mraz, Catherine Hardwicke, Andrew Keegan, Casper Van Dien, Caroline Lagerfelt, Jillian Murray, Ryan Kwanten, NiaVardalos, PoojaBatra, Traci Lords, Cuba Gooding Jr., Mike Manning, Toni Braxton, Danny Glover, and many more.
"Snow, films, celebrities and parties … Sundance is just a great way for people to experience the Vanity Girl brand," says Vanity Girl Hollywood's Maxine Tatlonghari.
Featuring their signature Pop Up Vanity Bar, Vanity Girl partnered with tart cosmetics out of New York to offer a Pout (lips) and Glow (cheeks) interactive experience. Hollywood hair & makeup artist DmarkisWigfall noted that, "Exposed" was the perfect color to achieve that effortless Sundance chic look. Vanity Girl brought its Black Broadway Table Top Vanity to provide the glamorous backdrop for this mini retreat at the Lounge.
RE:Treat Lounge was held at the popular SkyLodge luxury boutique hotel's main space and the heated rooftop bar, which was also the official filming hub for leading national entertainment news program Entertainment Tonight. USA Today recently named the location as "one of the top ten rooftop bars in the USA."
Sponsors of the event included Entertainment Tonight; MITCH men's grooming by Paul Mitchell; Patron, Moet &Chandon; Coffee Bean & Ta Leaf; Natrol; MRI and Prolab; Photos by John Ganun; David Noble & Co.; Alex Stein Designs; Burt's Bees; Vita Coco Coconut Water; Lyon Fine Jewelery; RemixWatches; Expression Rings of Hope; WhoSay; Eruption; Monster; Salsitas Mendoza Salsa; Happy Day Gourmet; Creminelli Fine Meats; Beehive Cheese; Happy Monkey Hummus, and Castle Creek Winery.
About The Sky Lodge:
Soho meets the mountains at the best location in Park City, Utah. The Sky Lodge is an intimate, chic, and luxury boutique hotel footsteps away from historic Main Street. The Sky Lodge provides a respite from a hard day's activities with 33 well-appointed suites, Japanese inspired Amatsu Spa, and divine cuisine to nosh on at Easy Street Steak & Seafood. End the day surrounded by spectacular views at Sky Blue, The Sky Lodge's rooftop lounge recently named one of the 10 great rooftop bars across the United States by USA Today.
About Vanity Girl Hollywood:
Launched in 2008 by fundraiser-turned-entrepreneur Maxine Tatlonghari (after a surprise lay-off), the brand quickly became a celebrity darling, lighting up the faces of famous beauties like Carrie Underwood, Jennifer Love Hewitt and Kim Kardashian. YouTube gurus such as Kandee Johnson, Makeup Geek and Emily Noel have also given the lighted mirrors their stamp of approval and major cosmetic brands are using the signature lightingin their YouTube studios and at high-profile events such as Sundance and New York Fashion Week.
###