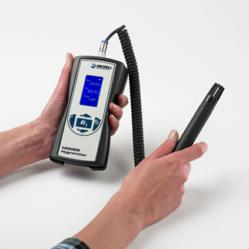 Rowley, MA (PRWEB) February 07, 2012
Michell Instruments launches a new handheld relative humidity hygrometer, the MDM25. This portable, battery-operated meter is available with a number of different probe configurations. It displays relative humidity, temperature and one calculated humidity value, making this instrument suitable for a wide range of inspection and testing applications.
The MDM25's highly stable polymer-based sensor responds rapidly to changes in humidity and is coupled with a thermistor for accurate temperature measurement. Other measurement parameters which can be derived from temperature and humidity are available including absolute humidity, wet bulb temperature and dew point.
The MDM25 is also an ideal reference instrument for use with humidity generators when calibrating or validating RH probes. Large users of RH probes such as laboratories, pharmaceutical companies, and semiconductor manufacturers find that in-house humidity measuring device calibration is highly cost-effective.
The MDM25 provides a useful secondary reference for use when performing calibrations with a humidity generator, such as Michell's S503. The display orientation of the MDM25 can be inverted so it can be read easily when the fixed probe is inserted into the S503. With a wide range of probes including remote, fixed, sword and round, the MDM25 can be used easily and comfortably in many situations.
About Michell Instruments:
Michell Instruments is the international leader in the field of moisture, humidity and oxygen measurement solutions. With over 30 years experience, Michell designs and manufactures a wide range of transmitters, instruments and systems capable of measuring trace moisture, oxygen and hydrocarbon dew point in a vast range of applications and industries including compressed air, power generation, process, oil and gas, petrochemical, pharmaceutical and many more.
###