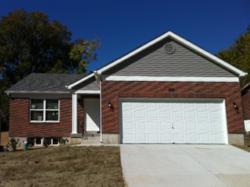 The goal is to use as many American made products as possible when building our homes. We try to source as much as we can from St. Louis and use union contractors as well." Jerry Meyer
St. Louis, MO (PRWEB) February 03, 2012
Rubicon Corp has extensive experience building homes for first-time homebuyers using FHA loans, so it only seems fitting that they are the first homebuilder in the state of Missouri to be approved for the FHA Construction to Permanent Financing Loan. This approval now gives Rubicon Corp. the ability to offer new construction homes to FHA buyers with one-time close and only 3.5% down payment.
Rubicon Corp, a St. Louis area homebuilder, is pleased to bring a new product to the St. Louis marketplace that benefits home buyers, agents, and landowners throughout the area. By becoming the first approved builder in Missouri, Rubicon can now build custom homes for buyers using FHA financing for as little as 3.5% down payment and only one closing. They have partnered with USA Mortgage to make this product available in the area and have already started working on land deals to allow buyers to build now. The first three homesites that Rubicon will be offering to buyers are located in Maryland Heights in the Pattonville School District.
"It is really exciting to be the first to offer this new product in the St. Louis marketplace," states Hayley Tomazic of J.F. Meyer Realty. She will be marketing the land available for these homes. She goes on to say, "Rubicon is able to offer a quality new construction home at a price point that is affordable for first time homebuyers, and in a very desirable location."
Rubicon has coined their floor plan "The Perfect Home" as it is a collaboration between all the parties that work on the construction including carpenters, plumbers, architects focusing on the wants and needs of today's buyers. It is a 3 bedroom 2 bath home just over 1200 square feet that offers a great layout with efficient use of space. Rubicon prides itself on their energy efficient features as well as use of local building products. "The goal is to use as many American made products as possible when building our homes. We try to source as much as we can from St. Louis and use union contractors as well," states Director of Development, Jerry Meyer. A short video with information regarding Rubicon's Perfect Home can be found here.
Rubicon plans to start with 3 homesites in Maryland Heights. The land owner and partner in the project, Fred of F.W. Schmidt Realty relays "The question is no longer should we buy a home now. Because of this new construction to permanent loan product, the question is why buy a used home when you can buy a new home the way you want it." After the initial offering, the plan is to roll out the "Perfect Home" to all parts of the Metropolitan area. They will help buyers find homesites convenient for them, negotiate the land price and build the home to their specifications. Meanwhile, buyers do not begin making payments until they move into the home. "It is a win-win for everyone involved." states Chris Gianino with USA Mortgage who is providing the financing for this project. "It allows buyers to find the land they would like to build on, builders to build the homes without having to buy the land, and agents to market land in a new way to prospective buyers." An in-depth video interview with Chris regarding the financing aspect can be viewed here.
Homebuyers interested in more information regarding Rubicon's Perfect Home and FHA Construction to Permanent Financing should call 314-229-2009 and ask to speak to Hayley or visit http://www.jfmeyerrealty.com and submit an online request for information.
###