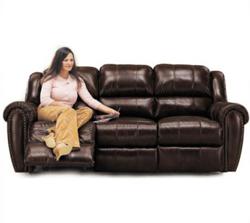 People should act fast. Coupled with our tax free and free shipping deal, we now have under a dozen sets left in the warehouse
Golden, CO (PRWEB) February 04, 2012
Online furniture retail powerhouse, SofasandSectionals.com, is proud to offer the Summerlin 214 Sofa Collection by Lane Furniture. This exquisite collection joins a wide selection of high quality living room furniture by Lane and other top brands. Rolled arms and nailhead trim give the Summerlin a stately traditional look, while the segmented cushions and chaise style footrests offer state of the art comfort and support. This collection is available in many different fabric or leather upholsteries that come in different colors and textures.
Select products of the Summerlin Group are also available for quick shipping. These products feature rich chocolate leather upholstery and an unbeatable sale price. Because of this, these products are flying off the shelves and may soon be gone. Customers should act fast if they wish to take advantage of the savings on these beautiful leather sofa groups that are sure to look good in modern or classic settings alike.
"So many people have been waiting a long time for this sofa group to arrive on SofasAndSectionals.com, and now they are excited to get their hands on this top-quality, traditional-style furniture", said Bill Lorden, Director of Sales for Sofas And Sectionals. Lorden went on to say, "People should act fast. Coupled with our tax free and free shipping deal, we now have under a dozen sets left in the warehouse".
SofasAndSectionals.com is also running another great deal – no sales tax and free shipping for customers in the continental United States. This offer is valid until February 15th, 2010. For those who are looking for something different, SofasAndSectionals.com has a huge range of other items available, including reclining leather sofas, leather furniture, leather sofas and recliner sofas.
It is expected that the remaining stock will be sold soon, so those who are interested are asked to act fast. Visit the Sofas And Sectionals website now, at: http://www.sofasandsectionals.com, or call one of their Sales Professionals before it is too late.
About Sofas and Sectionals - Sofas and Sectionals is highly regarded as one of the top online furniture retailers in the United States. With an intuitive website, and some of the best prices available on name brand furniture, Sofas And sectionals can supply everything needed for a well-equipped home. SofasandSectionals.com is a division of InteriorMark, LLC, the leading online retailer of home furnishings such as sofa and sectional collections, home theater seating and accessories, entertainment centers, bedroom furniture and home accessories. InteriorMark, LLC specializes in providing high quality furniture choices for home living spaces, bedrooms and dedicated home theater spaces. InteriorMark, LLC is a member of the National Home Furnishing Association and is proud to be a member of the Better Business Bureau.
###