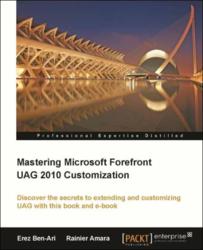 UK (PRWEB) February 02, 2012
Birmingham: Packt Publishing, one of the world's leading publishers of Microsoft book and Microsoft training material is pleased to announce the forthcoming publication of Mastering Microsoft Forefront UAG 2010 Customization. Written to follow up the very successful Microsoft Forefront UAG 2010 Administrator's Handbook – the book is scheduled for February 2012 publication.
Aimed at seasoned UAG consultants, deployment and support engineers, or UAG customers, and written by some of the leading experts on UAG, Mastering Microsoft Forefront UAG 2010 Customization covers the most complex and challenging options for customizing UAG in a way that is friendly and easy to follow. It walks readers through various customization tasks, including explanations and code samples, as well as creative ideas for troubleshooting work. Throughout this book, readers will tackle how to change a system's look-and-feel, deal with advanced authentication schemes, and write special functions that need to be executed as part of the client interaction.
About Packt Enterprise. Packt Enterprise is a division of Packt Publishing catering to an Enterprise readership. Delivering books on Microsoft, Oracle, IBM, SAP, and other technologies in print and eBook formats – Packt offers books for all communities of readers; from architects to administrators, from developers to end users.
###