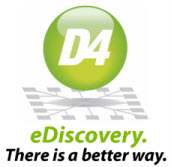 D4's growth in Central Florida parallels the company's overall growth nationwide over the past year
Rochester, NY (PRWEB) February 02, 2012
D4, LLC, the national leader in delivering end-to-end eDiscovery services, today announced the opening of their second full-service office in Florida. This office, in the heart of downtown Orlando, will be managed and operated by litigation support veterans, David Landrum and Drew Goletz, who have been managing the D4 Tampa office since its inception. The office is located at 14 E. Washington Street, Orlando, FL and opened for business in January.
The new Orlando office allows the company to better serve its growing list of regional and national clients. "Opening the Orlando office is a natural progression for our expansion in Florida. The new Orlando location allows the company to better serve law firm and corporate clients located in Central Florida," said D4's CEO, John Holland. "D4's growth in Central Florida parallels the company's overall growth nationwide over the past year," Holland continued.
Similar to D4's Tampa operations, the Orlando location is a full-service litigation support office that offers complete paper imaging and copying, as well as eDiscovery services and computer forensics. The D4 Orlando Office can be reached at 407-233-1145.
About D4, LLC
D4 is the nationally-recognized leader in litigation support and eDiscovery services to law firms and corporate law departments. D4 is listed on Inc. magazine's fifth annual Inc. 500|5000 list as one of the nation's fastest growing private companies.
Founded in 1997, D4 covers the full spectrum of the Electronic Discovery Reference Model (EDRM) and provides accurate, reliable, defensible data extraction on a wide range of ESI. With over 110 employees, D4 offers full-service locations in Rochester, Buffalo, Tampa, Orlando, Lincoln, Omaha, New York City, Grand Rapids and San Francisco. In addition, D4 fields consultants and project managers from Los Angeles, Colorado, Rhode Island, Michigan, and Washington DC. State-of-the-art data center operations in Rochester are complemented by electronic discovery and litigation support paper document services throughout the United States.
###