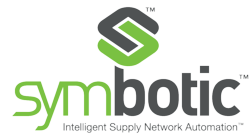 Companies like Symbotic create jobs, boost our economy and ensure our country's competitiveness," said Senator Brown.
Wilmington, MA (PRWEB) February 03, 2012
Symbotic welcomed U.S. Senator Scott Brown to its headquarters in Wilmington, Massachusetts today to highlight its impact on local job growth and showcase its ground-breaking robotic technology that offers a sustainable, low cost solution for warehouse automation. Symbotic has already added over 30 jobs in 2011 and plans to add over 100 jobs in the upcoming year, which represents a 100% growth rate.
"Senator Brown recognizes the importance of supporting start-ups in Massachusetts's thriving robotics cluster," said Jim Baum, CEO of Symbotic. "Symbotic employs over 100 men and women and we're proud to have his support of job growth and recognize our commitment to developing disruptive technology that makes this country more competitive."
In December 2011, the Labor Department released statistics that showed the national unemployment rate dropping for a fourth month in a row, easing to 8.5 percent with supporting data of 1.6 million additional jobs created last year, up from 940,000 in 2010. A large part of this job growth comes from small businesses that are defining new viable business models that will fuel future economic growth in the U.S.
"Companies like Symbotic create jobs, boost our economy and ensure our country's competitiveness," said Senator Brown. "I'm committed to find ways to make it easier for talented entrepreneurs to start and grow businesses and maintain our status as the world's greatest economic force."
During Senator Brown's visit, he toured Symbotic's manufacturing, research and development facility in Wilmington, Massachusetts, and met with many of the 88 employees who work at this location. In a separate meeting with Symbotic's executives, Senator Brown discussed issues with recent jobs legislation, his co-sponsored Innovate America Act, the proposed Startup America legislative proposal for Congress as well as recent legislation to improve access to capital, reduce regulations, and ensure we win the global battle for talent.
Symbotic is targeting manufacturers, retailers and distributors who are looking for automated material handling solutions that afford them greater simplicity, flexibility and scalability in their operations. Symbotic is uniquely positioned to offer a distinctive solution and economic alternative that is unmatched in the industry.
For that reason, the company needs to scale quickly to meet demand and is creating jobs in all areas - from skilled technicians, software, hardware, and structural engineers, to sales people, and mathematical PhD's that compute the algorithms that enable our robots.
About Symbotic
Symbotic is changing the way companies handle, store and distribute product using disruptive and innovative technology. Symbotic uses an flexible and modular framework, autonomous robots and an integrated and intelligent software system to provide solutions that reduce costs, simplify operations, and increase storage density, all in a customer's existing supply network infrastructure. The result is an automated materials handling and storage solution that is fast and affordable to set up, inexpensive to operate and flexible to change.
Symbotic is headquartered in Wilmington, Massachusetts. For more information about Symbotic and its supply network solutions, please visit http://www.symbotic.com.
Media Contact:
Wendy Troupe
email: wtroupe(at)symbotic(dot)com
Symbotic LLC
200 Research Drive
Wilmington, MA 01887
p: (978) 284-2800
email: info(at)symbotic(dot)com
Symbotic Online:
Facebook: http://www.facebook.com/symbotic
Twitter: @SymboticTweet
Blog: http://blog.symbotic.com
Symbotic and the Symbotic logo are either registered trademarks or trademarks of Symbotic LLC. Other names may be trademarks of their respective owners.
###