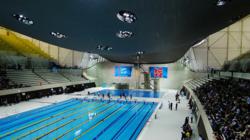 We received the tickets and had a terrific time at the Winter Games! Great Atlantic Travel and its staff provided us with fabulous customer service! Thanks for looking out for us! - Sarah H. - Ellenwood, GA
Virginia Beach, VA (PRWEB) February 08, 2012
While Great Atlantic Travel & Tour celebrates 30 years of service to the travelling public, the historic city of London is preparing to host two of the biggest sporting events in the world, the Summer Games and Paralympic Games. Sixteen million spectators are expected to visit London to watch 15,000 of the world's elite athletes compete for gold. Great Atlantic Travel is proud to offer custom Summer Games travel packages for these events.
Ever since London edged out Paris for the chance to host the 2012 Summer Games, England's capital has been awash in excitement as the city prepares to host the world's greatest athletes as they compete for the chance to bring home gold. "With the high level of competition and new technology, this is truly an exciting time for the sports traveler", says John Martin, owner of Great Atlantic Travel.
Sports travelers interested in learning more about travel options to experience the 2012 Summer Games in London, England, should call Great Atlantic Travel at 1-800-888-8233 or visit their website at http://www.GreatAtlanticTravel.com.
The Great Atlantic Travel & Tour Company specializes in providing once-in-a-lifetime sports travel experiences. From the initial trip planning to on-site support by an experienced travel consultant, Great Atlantic Travel works to make each trip a unique experience.
###