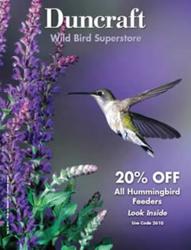 When you see Duncraft, rest assured that the quality of materials, workmanship, and most importantly, the usability of our feeders is second to none.
Concord, NH (PRWEB) February 07, 2012
In 1952, Duncraft became a pioneer in manufacturing products for a hobby that is now the second largest in America—backyard bird feeding. This was the year Gil Dunn invented the Flight Deck Windowsill Feeding Station. The design was extremely innovative for its time, offering fresh bird seed, water and even peanut butter–all designed to attract wild birds to windows where they could be seen and enjoyed up close. Sales began with only a small tear-out ad in the New Yorker. Over the years, Gil continued inventing and producing products for wild bird lovers. In the 1960's Duncraft began publishing a black & white 16 page mail-order catalog, offering bird feeders, houses, seeds and bird-oriented gifts for wild bird lovers.
In the 1970's, the second generation, Mike and Sharon Dunn, continued to grow the company, crafting Duncraft-brand bird feeders, houses, premium hard-to-find bird seed blends, and producing a bi-annual mail-order catalog featuring top quality bird products, many manufactured by Duncraft.
Duncraft entered the world of eCommerce in the mid 1990's with their website, duncraft.com. Duncraft's website now offers the largest selection of wild bird feeding supplies online. Duncraft continuously strives to engage customers, helping them learn more about their backyard birds. Duncraft's Wild Bird Blog has hundreds of articles about bird housing, bird feeding, providing water, proper habitat, species of birds and more, to guide customers as they seek answers on how to help and enjoy birds. Now with Facebook and Twitter, Duncraft interacts with, teaches and learns from customers in real time—further enhancing the customer's experience by sharing photos, events, fun contests, opinions and stories about wild birds.
Today Mike Dunn continues the traditions begun by his father so many years ago. Although our world has changed, Duncraft remains true to its goals from the 1950's—to create innovative solutions for wild bird feeding and to offer the very best in product quality, usability, excellent customer service and reliable home delivery. Mike's designs include over 400 bird feeding products made in Concord, NH and many new products are added each year. As it began in 1952, Duncraft continues to be the primary source for new ideas in bird feeding—giving bird lovers years of bird feeding enjoyment, success and satisfaction.
Duncraft Wild Bird Superstore
102 Fisherville Road
Concord, NH 03303
Phone: 603-224-0200
Fax: 603-226-3735
# # #