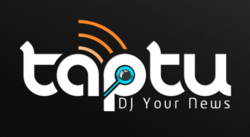 CAMBRIDGE, England & DENVER (PRWEB) February 02, 2012
Taptu, the social media and mobile search technology company known for "DJ-ing the news", announces today an exciting competition, Blog App-lifier, now open to any blogger in Europe or the US. The competition is simple to enter and boasts a fantastic incentive: a custom-built news app created around the winning blogs' content as well as any other topics of interest.
The app built for the winners will take advantage of Tapform, Taptu's unique search-based news aggregation platform that already powers apps for The Guardian and Dutch publication De Pers. Tapform will turn any content into an interactive app that generates streams determined by specific keywords that pull information from websites, blogs and RSS.
How the Blog App-lifier contest works:
1. Email contest(at)taptu(dot)com with contact details (name, age and email address) along with the blog name and URL.
2. The Taptu team will send back a personalized coded bit.ly link, which will record how many recommendations you influence to download and use Taptu on your smartphone or tablet.
3. Write a blog post and tell Taptu and your readers why you want to win and why your readers would want an app of your blog. You must use the bit.ly link to encourage your readers to add Taptu to their smartphone or tablet so your success can be tracked.
4. Tweet a link to the blog post using @Taptu and #TaptuComp in the tweet
Full terms and conditions can be found here: http://www.taptu.com/blogger-competition-tc/
Like the large publishers already using Tapform to power their mobile experience, the winning blog will be transformed into a similar news aggregator app with highly visual streams and the option to feature related content that will appeal to their readers. The Tapform backed app will strengthen the blog as a whole and help grow readership by bringing in mobile readers.
The competition heats up today, February 2, and will end on March 30, with the winner announced on April 15.
Try Taptu today:
For iOS:
http://itunes.apple.com/us/app/taptu/id392240746?mt=8
For Android:
https://market.android.com/details?id=com.taptu.streams&feature
About Taptu:
Founded in 2006, Taptu is an award-winning social media and mobile technology company based in Cambridge, England, and Denver, Colorado. Taptu builds innovative platforms, tools and applications that enable highly personalized creation, curation, recommendation, search, discovery, management, consumption and sharing of content across all personal screen-based devices. Wapedia, Taptu's popular mobile Wikipedia with over 4 million downloads, is also available for download at the Apple App Store and on the Android Market.
See http://www.taptu.com for more information.
###