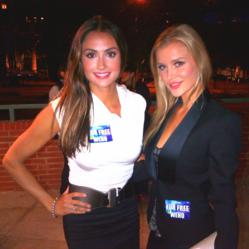 Los Angeles, CA (PRWEB) February 02, 2012
Supermodels Katie Cleary and Joanna Krupa are requesting and challenging the Kardashian family to remove all fur from their high-end clothing store, "DASH," as well as their clothing line, Kardashian Kollection.
The request is being made via the online petition website, http://www.thepetitionsite.com/28/Stop-Selling-Fur-Kardashians/, where Cleary and Krupa have set a goal to obtain 10,000 signatures of support. Although a number of similar requests have been made by various animal rights' organizations, Cleary and Krupa expect to significantly exceed their goal– and present the petition in person at the DASH store in Calabasas and challenge them to take a stand for animal rights!
Katie Cleary is a known animal rights activist, supermodel and actress. Katie helped in passing the ban of the sale of fur in West Hollywood which is taking effect in early 2012. Katie is perhaps best know for her four years on NBC's hit game show, Deal or No Deal. She has also made numerous television and film appearances including NBC's Chuck, CSI: New York, CMT's Working Class, America's Next Top Model, and much more. Katie was also named one of People Magazines 100 most beautiful people and has graced numerous magazines covers. Cleary has raised tens of thousands of dollars for organizations such as the SPCALA and The Wildlife Way Station and last August founded and produced the charity event "Diamonds Not Fur," hosted by Betty White.
Joanna Krupa has graced the covers of over 120 national and international fashion and lifestyle magazines including GQ, ESQUIRE, MAXIM, FHM, OCEAN DRIVE, Inside Sport, GLAMOUR and Shape. She was named the Sexiest Swimsuit Model in the World and sexiest woman in the world by magazines around the globe and has appeared already three times in the US Maxim Hot 100 list . She has also made a number of TV and film appearances including Dancing With the Stars and hit TV series such as Vegas and CSI. Krupa is also a TV host in Poland where she is being praised for her success with the TV show Poland's Next Top Model (now going into 3rd season).
Videos that can be found on any number of animal advocacy websites exhibit the inhumane treatment that animals experience when their fur is removed. According to articles on the PETA website, often times, the animals have not completely died before the fur is torn from their bodies and the animals are forced to endure the excruciating pain. The stark reality is that much of the fur currently purchased in the US is imported from China and Russia, where no regulations are placed on the fur trade. As a result of the lack of regulations on international fur trade, it is not uncommon for fur labeled as fox or mink, originating from Asia, to be actually that of cat or dog. (Source: http://www.peta.org/issues/animals-used-for-clothing/chinese-fur-industry.aspx)
###