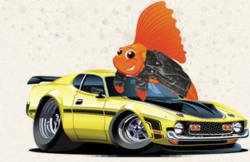 I'm always a bit suspicious of large, well-organized fundraisers for health causes.
New York, New York (PRWEB) February 02, 2012
RoadFish.com men's lifestyle and finance magazine today condemned Susan G. Komen, the world's largest breast cancer organization, for pulling financial funding used for breast cancer screenings and educational programs at Planned Parenthood. Pam Belluck of the New York Times reports that Planned Parenthood received nearly $700,000 last year in grants from Komen, who has been contributing to PPH since 2005.
In a press release from Planned Parenthood, the organization claims that the Susan G. Komen Foundation was under pressure from anti-choice groups that frowned deeply on Komen's partnership with Planned Parenthood. Planned Parenthood president Cecile Richards stated, "We are alarmed and saddened that the Susan G. Komen for the Cure Foundation appears to have succumbed to political pressure. Our greatest desire is for Komen to reconsider this policy and recommit to the partnership on which so many women count."
According to Belluck's article in the New York Times, Komen spokeswoman Leslie Aun reported that Komen issued a new requirement of prohibiting grants to organizations which are under local, state, or federal investigation. Representative Cliff Stearns is currently examining money spending and reporting at Planned Parenthood, disqualifying the organization from obtaining financial aid according to the new Komen stipulation.
RoadFish.com's editor was quoted as saying, "I'm always a bit suspicious of large, well-organized fundraisers for health causes. It is not uncommon for some or all of the money to end up going to benefit already profitable drug companies. For most diseases, the real cure is the prevention."
David Crary of the Associated Press reports that Planned Parenthood has seen a large spike in donations in the wake of the lost Komen grant, raising nearly $400,000 in the 24 hours following the announcement.
RoadFish.com's editor says he is pleased to see the donations roll in, and is quoted as saying, "Those who don't have good credit may need low cost medical services when they have a health crises. I have seen Planned Parenthood used more than once for real health care needs for those who really needed it."
Planned Parenthood reports that one out of every five women in America has utilized their services at some point in life, and that over 90% of the health care PPH provides is preventative. This includes supplying birth control, breast cancer and other cancer screenings, breast health services and education, Pap tests, prevention and treatment of STDs, and other sexual education.
About RoadFish.com
RoadFish.com is an online men's lifestyle and finance magazine targeted toward men in their 30's and 40's that have already attained a moderate level of success in life, and are striving toward more. It goes over current events of interest to this group, such things as exciting adventures, influential icons, and finances as well as ways to make more and save more money. It is a publication owned by Purpose Inc.
###