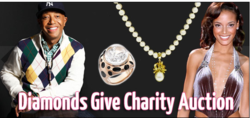 New York, New York (PRWEB) February 02, 2012
With only 7 days to go, now is the time to bid for amazing items! To coincide with the Valentine's season of love and giving, the Diamond Empowerment Fund™ (D.E.F.) is currently having its signature on-line fundraising event, Diamonds Give, an exclusive auction of fabulous diamond jewelry and unique celebrity experiences that is being hosted on charitybuzz.com. The auction features diamond jewelry items donated from some of the top names in the jewelry industry and one-of-a-kind celebrity packages including tickets and 'meet and greets' with D.E.F celebrity supporters. Auction lots currently up for bidding include attending a 'Fashion Week' event with former Victoria Secret supermodel and D.E.F Angel Selita Ebanks, a personal gift collection from Tory Burch, a package styled by Kimora Lee Simmons including a 1 year membership on her exclusive fashion website JustFab, attending a Houston Rockets NBA game and meeting with rising star Hasheem Thabeeth and exclusive tickets to attend and meet Russell Simmons at the annual Art for Life event in the East Hamptons. The auction will have two end dates with most jewelry and merchandise items closing on the 8th of February in time for Valentines Day delivery and celebrity items ending on the 22nd of February. To preview these amazing items and purchase the perfect gift for your loved ones, visit
http://www.charitybuzz.com/auctions/DEF2012/catalog_items.
Lita Asscher, President of Royal Asscher and who donated one of her spectacular "Stars of Africa" rings for the auction states…"after I visited Africa, I wanted to incorporate an ethical and philanthropic component, whereby part of the proceeds from the sale of our Stars of Africa and Shining Stars collections benefit communities in Africa. Not only do we want the floating diamond collection to mesmerize you, like snowflakes in a snow globe, they should also bring happiness and benefit youth in diamond producing countries." –Lita Asscher
Adds Kristin Hanson, CEO of Kristen Hanson Jewelry "I find it incredibly important to support DEF in their efforts to empower African youth. Teaching is a tool that influences the future and inspires in a positive way. Fine Jewelry School (FJS) focuses on the art of jewelry making and entrepreneurship, we are thrilled to be a supporter of DEF." Ms. Hanson donated a two-month internship at the FJS at her NYC studio.
About the Diamond Empowerment Fund
The Diamond Empowerment Fund is a New York based non-profit organization (EIN# 20-5967103) that raises money to support education initiatives in African nations where diamonds are a natural resource. It was established in 2007 by a group of individuals and businesses in the diamond and jewelry industry, with the belief that education is essential to empower both individuals and society to reach their fullest potential.
###