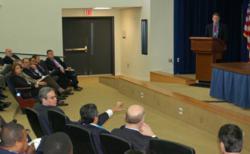 I felt like "Mr. Flicker goes to Washington," said Mr. Flicker, referencing the 1939 Jimmy Stewart classic movie "Mr. Smith Goes to Washington."
West Trenton, NJ (PRWEB) February 04, 2012
I felt like "Mr. Flicker goes to Washington," said Mr. Flicker, referencing the 1939 Jimmy Stewart classic movie "Mr. Smith Goes to Washington." Mr. Flicker joined 125 northeast U.S. business owners to provide feedback on what the administration can be doing more of – or less of – to support job creation and to ensure that local business leaders are aware of the administration's programs and resources that can help them grow and succeed.
"Actually, we met in the Eisenhower Executive Office Building which is next door to the White House. Coincidentally, Homasote's 440 SoundBarrier board was used to protect floors and walls during an extensive renovation of the historic building two years ago," says Mr. Flicker proudly. "The host mentioned it to our group during a round table discussion."
"One of my favorite presenters was Mark Doms, Chief Economist of the US Dept. of Commerce, who provided excellent information on trends and forecasts for 2012. Mr. Doms answered a lot of questions in a way that we could understand. When asked about the construction industry, he felt it was going to remain flat with the exception of multifamily," commented Mr. Flicker, "I concur and feel we are turning the corner and will see some small increases especially here in the North East."
In an afternoon session, Mr. Flicker asked how Homasote could get grant money to fund research for a new production process that saves energy, is clean burning, kind to the environment and will create more jobs. And although he had a sympathetic ear, he found out no research grant money is available at this time for companies his size. He found out grants were available for "small companies," defined as "under 100 employees and start ups." "We have 106 employees and therefore did not qualify. Since the goal of the money is to create jobs, downsizing in order to qualify for the grant was out of the question," said Mr. Flicker.
Founded in 1909, the Homasote Company pioneered the manufacturing of building and packaging products made from recycled materials in the U.S.; most Homasote products are made from 98% recycled material (high post-consumer). Each production day Homasote recycles up to 100 tons of recycled paper fiber. In addition, Homasote's manufacturing process helps conserve nearly 1 million trees and eliminates more than 45 million pounds of solid waste that otherwise would go into landfills. Homasote structural fiberboard products are used in residential and commercial buildings.
The company is known mostly for its structural tackable panels used in schools, offices and residences. While the company continues to manufacture tackable panels, its primary focus has been on selling conventional, high-performance, cost- effective Sound Control solutions for walls, floors and ceilings. Just in the past several weeks Homasote has conducted third party sound tests that achieve up to an STC 55 in a single wall with its product on only 1-side of the wall.
Targeting the multi-family and hospitality construction markets; both of which are forecasted to grow 17% in 2012 and maintain strong growth for several years to come; Homasote is trying to position itself for growth even if the overall construction market remains flat. The company also makes products for temporary protection during construction, fire rated roof decking, concrete forming and expansion products, along with industrial packaging and shipping protection pads, among others. For more information about Homasote and their recyclable building products visit http://www.Homasote.com.
Since April 2011, the White House Business Council and Business Leaders Forum has held over 500 meetings with business and civic leaders in all 50 states. The feedback from the session has directly informed Administration policy and the President's plan to create jobs like Quick Pay, which will reduce government payment time to small business contractors from 30 days to 15 days, and the launch of http://www.BusinessUSA.gov, a website that will make it easier for companies to learn about Federal Resources for business and exports.
"All in all I was encouraged that the White House took the time to listen," reflected Mr. Flicker, "and I'd do it again. But this time, I'd ask more questions." Sounds like Mr. Flicker is headed back to
###