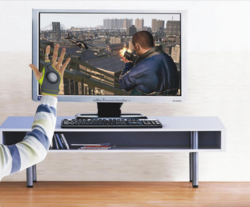 If your Mouse doesn't Groove your Cursor shouldn't move! (sm)
(PRWEB) February 04, 2012
Orlando, Florida: Bellco knows that sitting at the desk stressing the hand and wrist develops a bad experience. Being able to move about freely develops a comfortable experience.
Bellco has made available this new ergonomic computer air mouse glove.
It will give everyone that is stressing over the desktop mouse a mobile tool to control the computer cursor for work or play anywhere in the room up to 35 feet away.
No more imagining what if, it is here, with this new ergonomic computer glove anyone can sit back in the big chair while controlling their big screen computer world, just add a wireless keyboard and life is good.
Now imagine how relaxing and comfortable it will be after hours of work or play with this new mobile tool. With the Internet playing a big role in everyone's life, Bellco believes it is necessary to take the steps to make the experience a comfortable one.
The New Ion Wireless Ergonomic Air Mouse Glove is available online, Just Google, Ion Wireless Air Mouse. The Ion wireless Air Mouse Glove runs on Windows, Mac, Linux & Android, it is simple to setup just plug in the mini USB module to the computer USB port and you are ready to move.
Pete Bell founder says Bellco's slogan (If your Mouse doesn't Groove your Cursor shouldn't move) SM
Check out the New Product Feature on the Ion Wireless Computer Glove, in Government Technology Magazine @ govtech.com
For more information, contact Bellco Ventures Inc. http://www.ionwirelessairmouse.com
###