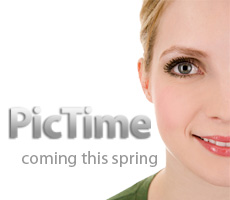 Labor is by far the largest expense for businesses. Now with PicTime, even our smallest clients can get real-time, validated labor data on their employees.
Birmingham, AL (PRWEB) February 03, 2012
TimeMD.com, a leader in time and attendance software, is set to release a new app that is poised to revolutionize the traditional biometric time clock industry. The new app, currently code named, "PicTime", has been designed to take advantage of the readily available technology found in some of the most popular tablet devices. In turn, this will allow businesses to finally be able to afford a nearly 100% reliable employee verification process for tracking time.
The app will utilize tablets such as the iPad or Android based tablets with integrated cameras in order to take a photograph of the user as they record punches. This picture will then be saved and uploaded to the TImeMD servers so that managers can, at their leisure, compare the photograph with the personnel's photo on file. This will allow managers to quickly identify those who might be abusing the time tracking process through "buddy punching".
The process of "buddy punching" has caused management headaches for about as long as recording time has been required. The basic idea is that employee A contacts employee B asking if employee A will punch in for them. This typically occurs if employee A is running late and want's to avoid disciplinary action or a deduction in wages. Employee B obliges by clocking in employee A by whatever means being used to track time.
In most cases management is none-the-wiser or they have no way to prove this occurred. As a result hundreds of thousands of employees are taking advantage of budding punching each and every day. This results in millions of dollars of "stolen" time from employers. In order to address this problem, businesses have sought technical based solutions, the most common being biometric verification devices.
Biometric verification, or a way of uniquely identifying an individual by some distinguishing biological trait, has been adopted by many companies as a possible solution to stop buddy punching. Some of the more common biometric devices are fingerprint readers, hand geometry, retina or iris pattern scanners.
However, most of these biometric solutions cost more then what most businesses can afford. Some even attempt to purchase cheap off-the-shelf solutions. They quickly discover these solutions are frustrating to use and suffer from a high failure rate when it comes to accurately identifying personnel. The more accurate the biometric process needs to be, the more you'll need to spend. As the old saying goes, you get what you pay for.
TimeMD has solved these problems by taking the complexity out of traditional biometric verification processes. Gone are the days of relying on complex programming and proprietary hardware solutions. TimeMD has adopted the philosophy that verification can come at any point, as long as managers and supervisors have the tools they need to verify the employee. That way employees are free to record their punches knowing that management can at any time, verify they are who they say they are.
"Our web based time and labor system can work with any open time clock or biometric device, but we developed the PicTime app to fill a void in the market. We consistently hear clients complaining about the cost of existing biometric solutions so we developed PicTime," says Erik Rowland, President of TimeMD.com.
According to Mr. Rowland, in order to expedite the verification process, an e-mail can be sent automatically to the payroll or HR manager that displays dozens of actual pictures in addition to the employees validated photograph. In a matter of seconds the manager can then easily validate that the person clocking in and out was who they were supposed to be.
TimeMD.com has been offering an innovative web based solutions for nearly a decade by giving both small and larger employers a simple intuitive interface combined with the robust features needed to accommodate the most demanding employer.
"Because our system is purely web based, managers deployed all over the country have access to critical data in real-time all in one place simply by accessing their account online. The technology has changed the landscape of how employers manage their labor cost," says Rowland.
Clients that are used to reviewing labor cost at the end of the month can now review costs in real-time. They can then use TimeMD to make immediate adjustments in labor allocation based on daily market conditions.
"Since labor is by far the largest expense for the majority of companies, real-time data is critical for managing it. Now, with PicTime, even our smallest clients can get real-time, validated data on their employees," says Rowland.
The PicTime app is expected to be released spring of 2012. To learn more about how PicTime can help your business or to sign-up to receive notices of when the app becomes available, contact a TimeMD representative today.
###