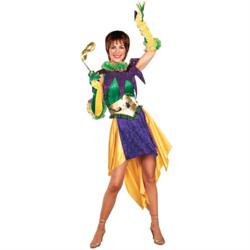 Dressing up for Mardi Gras is a way to escape norms and let go of inhibitions for just one day.
Denver, Colorado (PRWEB) February 05, 2012
On Tuesday, February 21 whether you are headed to New Orleans or not, TotallyCostumes has you covered. To help party goers celebrate Mardi Gras properly, TotallyCostumes has released their top 5 Mardi Gras Costume Ideas:
1. Dress up in something traditional. Some traditional adult costumes that you could use include kings, queens, clowns, court jesters, showgirls or masquerades.
2. Wear purple, green and gold. Traditional colors can be incorporated into every costume. These colors are not only beautiful together but they carry significant meaning; purple represents justice, green represents faith and gold stands for power.
3. Get creative. Throw a twist on popular Halloween costumes by adding your own flair. Instead of just being a Queen, be the Queen of the Ocean and drape yourself in starfish and seashells and bring a beach ball for people to play with.
4. Accessorize. Mardi Gras is all about being flashy. Wear flashy shoes, boas, beads and feathers that will add fun to your costume. Hats, crowns and masks can never be too loud or big.
5. Dress up in a group. The best Mardi Gras group costumes somehow incorporate traditional Mardi Gras themes, colors or ideas. Even if you're not on a float, by dressing up in a group you can create a walking mobile. Some group costume ideas include: Coloring Crayons (green, gold, purple), a pack of royal lions, a flock of exotic birds (parrot, peacock, flamingo etc.), beads (put together your group makes a necklace) and a walking royal ship.
TotallyCostumes' online store features more festive Mardi Gras costumes than ever before. Just about anything goes when it comes to dressing up for this holiday. Some people will even choose to dress up to make a political statement. Traditional Mardi Gras costumes have roots that date back to the Romans who wore masks and visages of supernatural creatures. Dressing up for Mardi Gras is a way to escape norms and let go of inhibitions for just one day. For more costume ideas check out TotallyCostumes.com.
About TotallyCostumes:
TotallyCostumes, is one of the largest online costuming retailers. TotallyCostumes offers Halloween costumes, kids costumes, movie and TV costumes and traditional looking costumes for a parties or events. TotallyCostumes offers more than 30,000 adult Halloween costumes, costume wigs, shoes, eye contact lens, and accessories. TotallyCostumes' mission is to offer the largest selection of quality costumes possible at the most competitive prices, online or offline. For more information visit: http://www.TotallyCostumes.com.
###