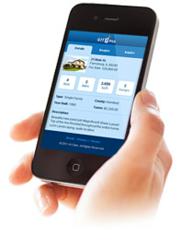 Which technologies and marketing platforms are going to provide you with the highest ROI?
Rolling Meadows, IL (PRWEB) February 08, 2012
Reaching clients with mobile marketing and on their smartphones is becoming more important than ever before. Smartphone users in the U.S. total 95.8 million. Wireless subscriptions, in general, now exceed the entire U.S. population of 315.5 million with 327.6 million mobile connections, according to CTIA's semi-annual survey. It's time for real estate professionals to reach out to this population through mobile technology.
Are you using all of the mobile technologies listed below to connect and let your potential customers connect to you?
1. Text - Smartphone users send and receive a significantly larger number of texts per day than users of basic mobile phones. Reach the 95.8 million smartphone users by allowing them to receive listing information by texting a property identification code.
2. Pre-recorded Messages – Don't miss a lead; provide listing information via pre-recorded messages. Forward inquiry calls to any line - office or mobile - to stay connected to all calls wherever, whenever.
3. QR Codes – Scanning QR codes is on the rise with 23 percent of Android users leading the way followed by 19 percent of Apple's iOS platform. Each day 700,000 Android phones are activated. Think about all of those future potential customers, it makes sense to take advantage of this effective tool in real estate mobile marketing.
4. Mobile Website – Studies project mobile internet use will push ahead of desktop internet access by 2014. Get ahead of the game, and give your lead instant information. After the potential buyer sends a text, send a text back with a link to your mobile website.
5. Mobile Appointment Scheduling - Manage and track the sales cycle process. Engage the potential buyer by allowing them to schedule a showing. Keep track of your appointments on your mobile to increase customer satisfaction by never missing an appointment again.
You may have incorporated some of these technologies into your marketing routine already. However, do you manage each individually? There is a tool that is capable of implementing these technologies and provides tracking through detailed dashboard metrics. 4112Me is the single most complete mobile marketing solution in real estate today.
Which technologies and marketing platforms are going to provide you with the highest ROI? With many different marketing tools available, the costs can add up and management may get confusing. 4112me is the most complete mobile marketing platform on the market, providing the services you need all under one easy to use application.
For more information on 4112me and technology in Real Estate, connect with us! 4112me is on LinkedIn, Twitter, Facebook and more. See the links below to follow us and begin implementing these five technologies into your campaign using 4112Me's mobile marketing platform.
Follow us on LinkedIn
Follow us on Twitter
Like us on Facebook
Connect with us on Google+
Check out our blog
###