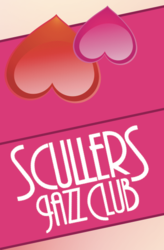 Celebrate Valentine's Day At Scullers Jazz Club
Boston, MA (PRWEB) February 03, 2012
Valentine's day is just around the corner. Impress your Valentine with a rose and a romantic night at Scullers Jazz Club listening to the music of Paul Broadnax Quartet and the delightful voice of Cassandre McKinley while sipping exclusive champagne cocktails.
Make the evening even more remarkable by dining at the Green Room Restaurant before the show. The special Valentine menu will please all palates.
Paul Broadnax:
Known for his "King Thing" (Nat Cole's singing and playing), and the powerful influence of Joe Williams, Paul Broadnax performs around New England and beyond. He was twice nominated for the Boston Music Awards Jazz Singer of the Year, and chosen in 2003 as Musician of the Year by the Boston Musicians' Association.
Cassandre McKinley:
She has never been compared to another famous singer "before her time." Instead, McKinley has enriched her musical surroundings with something honest and refreshing. Her approach to jazz is organic, instinctual and from the heart – most simply describe her as "authentic." Drawing from a diverse group of influences, McKinley has developed a sound and style that is so unique, there's no comparisons. Her voice is a blend that is true "soul" at it's core – a sound that is pure, yet sophisticated and distinctive.
PAUL BROADNAX QUARTET with CASSANDRE McKINLEY
Tuesday February 14, 2012
Show: $20 Dinner & Show: $62
Show times: 8pm
Buy Tickets
Box Office: 617-562-4111
Scullers Jazz Club:
Since 1989, the legendary Scullers Jazz Club has presented the biggest names in straight ahead, Latin and Contemporary Jazz, as well as Blues, Soul, R & B, Cabaret and World Music. Scullers Jazz Club's deep, rich mahogany walls and large windows overlooking the Charles River and Boston's skyline have reverberated with an eclectic mix of Jazz music that has attracted a loyal audience as diverse and vibrant as the city of Boston itself.
Scullers Jazz Club
At the Doubletree Suites by Hilton Hotel Boston
400 Soldiers Field Road Boston, MA 02134
###