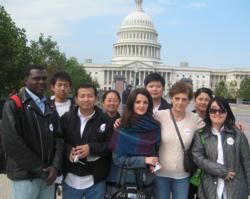 The Immigrant Support Program (ISP) provides immigrants with educational, cultural, and professional activities and a welcoming "home away from home" to support them as they pursue their dreams in America.
New York, NY (PRWEB) February 16, 2012
The Andrew Romay Immigrant Support Program (ISP) at the International Center in New York (ICNY), a non-profit English language Center, provides a welcoming place for immigrants where they can build the skills they need to fully participate in the professional and social life of their new country. Currently, members in the program come from 30 different countries. Now in its fourth year, the ISP will serve 162 members this year, all of whom have arrived within the past year and are in serious financial need.
Although the ISP serves underprivileged immigrants, many of its members are highly educated and respected professionals in their countries. Recently, graduates of the ISP have gone on to pursue master's degrees in the City University of New York (CUNY) system, entered medical residencies, and clerk for the New York State court system. Graduates of this highly successful program posted a 56% employment rate between July and December 2011.
The ISP is jointly funded by Andrew Romay, a successful entrepreneur in the world of finance, who immigrated to the United States from Hungary, and George Soros' Open Society Foundations. The program also receives generous donations from the public.
In addition to English language training, newcomers also learn about the higher education system in the United States, participate in the civic life of their new communities through legislative visits, and increase their understanding of personal finance, nutrition, and other topics vital to their daily lives.
ICNY invites you to contribute to the ISP by Investing in an Immigrant, donating, or volunteering at ICNY.
About ICNY: For 50 years, the International Center has provided a supportive and welcoming community in which newcomers to the United States can overcome cultural and linguistic barriers by gaining strong English-language skills and knowledge of American culture. With a small full-time staff and a corps of 1,000 trained volunteers, the International Center annually serves more than 1,500 immigrants, refugees, students, and visitors from over 90 countries. To learn more about the International Center, or to join our community as a member or volunteer, please visit them online at http://www.intlcenter.org.
###