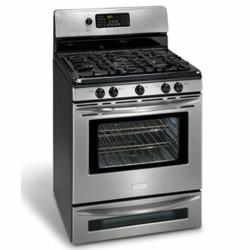 "We perform many oven, range and stove installations and educate our customers about the importance of installing kitchen exhaust hoods vented to the outdoors to avoid concentration of harmful gases"
Falls Church, VA (PRWEB) February 03, 2012
In the light of Punxsutawney Phil's prediction of 6 more weeks of winter, Any Brand Appliance Service, Inc. reminds homeowners to avoid using a gas range or stove as a heat source as it decreases air quality, poses a fire hazard, and may cause carbon monoxide poisoning.
According to the United States Environmental Protection Agency, any fuel-burning unvented heat source, such as stove, increases exposure to combustion products in homes causing indoor air pollution with one of the major pollutants being colorless and odorless carbon monoxide.
As specialists in installation, service and repair of major household appliances, Any Brand Appliance Service, Inc. employees answer a lot of customer inquiries, including the questions about appliance safety.
"We perform many oven, range and stove installations and educate our customers about the importance of installing kitchen exhaust hoods vented to the outdoors to avoid concentration of harmful gases," said Amjad Jamil, the owner of Any Brand Appliance Service, Inc..
Approximately 480 people die in U.S. every year due to unintentional carbon monoxide poisoning, according to the statistics from Centers for Disease Control and Prevention (CDC). Produced whenever fuel is burned, carbon monoxide can accumulate following prolonged use of the gas stove in poorly ventilated areas.
Symptoms of carbon monoxide poisoning include headaches, nausea, fatigue, dizziness and are frequently confused with cold or flu symptoms. CDC emphasizes that these symptoms should not be left untreated, because they may cause loss of consciousness and death especially in sleeping or intoxicated people.
"Unattended operating gas stove is also a fire waiting to happen," added Jamil. "We recommend professional HVAC installation by a certified and reputable company to ensure that all equipment is installed correctly and is safe to use."
Jamil further explained that if a temporary gas pipe blockage or a certain circumstance (a sudden draft or a pet) causes the burner to extinguish, the concentration of gas in the air may increase to the point when it takes a phone call to ignite the explosion.
Both propane and natural gas have a strong odor unlike carbon monoxide, which makes the gas leak easier to detect. Suspected gas leaks have caused recent evacuations from Westfield Montgomery Mall in Bethesda, Md., and an apartment building in Rockville, Md.
Based in Falls Church, Va., Any Brand Appliance Service, Inc. has been providing appliance repair in Virginia, Maryland and Washington, DC for more than ten years and has worked on several cases involving a gas leak. The company pointed out that misuse and repurposing of appliances endangers not only the owners, but their neighbors and other tenants as well.
###