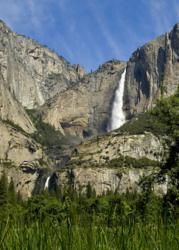 A number of Yosemite area businesses are further sweetening the deal for sweethearts traveling around Valentine's Day, making the national park an ideal spot for a romantic getaway this month.
Oakhurst, CA (PRWEB) February 02, 2012
A recent article in the US News and World Report ranked Yosemite as the most affordable vacation destination. A number of Yosemite area businesses are further sweetening the deal for sweethearts traveling around Valentine's Day, making the national park an ideal spot for a romantic getaway this month.
Bed and Breakfasts
Few things can top the romance and allure of a private getaway at a B&B near Yosemite National Park. Offering all the ambiance, beautiful scenery and privacy a couple could need, several of the bed and breakfasts have ways to further entice vacationers.
Vulture's View Bed and Breakfast, with unobstructed views of the Sierra Nevada, frequent visits by deer and other wildlife and a hot tub makes a great retreat. If guests book for Valentine's Day, they will also receive a free picnic to take with you to Yosemite. Rooms, including the picnic, start at $150 a night.
The award winning Apple Blossom Inn, located in Ahwahnee, boasts verdant surroundings and gourmet Candy "Apple" breakfasts each morning. Visitors' stay also will include Yosemite National Park entry and a country-style picnic lunch packed in an insulated cooler back-pack, including Sparkling Apple Cider and homemade trail mix. A two night package including all of the above is just $346 plus tax. If guests can't make it during Valentine's Day never fear, the deal is good throughout February.
Bass Lake
With this winter's mild temperatures, a lake trip is still very much in the cards for many people. The beauty of Bass Lake makes for a stunning backdrop for a romantic trip. Plus there are options for those looking to take a trip while sticking to their budget.
Century 21 Ditton Realty at Bass Lake has 77 vacation rentals to choose from. Throughout the month of February travelers can stay for four nights for the price of three.
At The Pines Resort, vacationers can save as much as 35% for a one-night visit. Stay a night in a Chalet February 10 or 11 for only $109; book the two nights together for only $178. Rates are even more affordable February 12 through 14. Plus, to add a special romantic touch, guests can add romantic items including champagne, roses, chocolates, cheese and wine basket and more.
Just one mile north of Bass Lake is the Pine Rose Inn. Enjoy private amenities such as Jacuzzi tubs, full kitchens and a full breakfast by a warming fire every morning. Enjoy one of the nine suites starting at just $79 throughout February.
Dining
Of course a romantic dinner is a must, and the five-diamond Erna's Elderberry House in Oakhurst provides the perfect atmosphere. The world famous restaurant announced their Valentine's Epicurean Dinner on February 12, featuring dishes such as Braised California Sturgeon and Maine Lobster Consommé for $115 per person.
For Valentine's day, Executive Chef Gunnar Thompson has prepared a "lover's menu."
"Chef got inspired by the Goddess Aphrodite. This evening he will present you with Two menus; one for the Gentleman with suggestive ingredients and another using products to invigorate the Lady," according to the restaurant's website. Valentine's dinner is also $115 per person.
Throughout the rest of February and through March, visitors can enjoy a delicious dinner matched with the perfect champagne for only $48 per person. To complete the romance, stay at the attached Chateau du Sureau for 40% off standard rates.
Wine
If a romantic trip sampling wine is the preference, then the Madera Wine Trail is hosting their annual Wine and Chocolate Weekend February 11 and 12. Wineries will be pairing their award winning wines along with decadent chocolates. Many will also be showcasing local artists, hosting music and more.
The Madera Wine Trail is comprised of 10 wineries, each with unique character and charm. Madera's warm climate and geographical features give winemakers the ability to craft wines that offer distinct flavors of unique varietals. You can purchase tickets good for tasting at each winery for $25 ahead of time or $35 at the door. For advance tickets, visit http://www.MaderaWineTrail.com.
National Park Tour
As Madera County is known as California's Gateway to Yosemite, lodging properties are located anywhere from five minutes to about an hour of Yosemite's southern entrance. Some properties located in the valley are centrally located so that they are not only about an hour from Yosemite, but from Sequoia National Park as well.
One of those properties, the Madera Valley Inn, is offering a two night stay for only $89 total. Book the stay and receive a free bottle of wine in the room as well.
Travelers can retreat to a Jacuzzi Suite at the Hampton Inn and Suites in Madera and receive a box of chocolates, wine or non-alcoholic beverage, rose, breakfast served in-room, and dinner at Cool Hand Lukes (valued at $40) for only $169. Enjoy the same in a King or Jr. Suite for only $149.
The Holiday Inn Express Yosemite Gateway to Yosemite in Chowchilla is offering the Royal Romance Package Guests can stay in a Jacuzzi Suite with a chilled bottle of champagne and chocolates. This special also includes a Full Breakfast in Bed and a $40 Gift Card to Farnesi's Steak House for only $169.
Many more discounts are available as well. To book a stay or to learn more, visit http://www.YosemiteThisYear.com/special-deals.
###