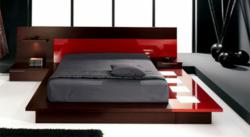 We'll be shipping the $2,895 Queen size version of the bed in the wenge wood finish with the red lacquer accent finish to one lucky facebook fan
(PRWEB) February 04, 2012
In a move to thank their online following, modern furniture retailer room service 360° is giving away their best selling $2,895 Selex Blok Walk-on Platform Bed from Spain's Milmueble to one lucky Facebook follower.
In the past few years, with the advent and complete takeover of the internet by social media, room service 360° has been given a fantastic opportunity to stay in touch with their clientele and modern furniture lovers the world over. Since its inception, the room service 360° Facebook page has been growing steadily and room service 360° wanted to give something back to one lucky member of the community - their best selling piece of furniture. That piece is the Selex Blok Walk-on Platform Bed from Spain's famed furniture design house, Milmueble.
The contest will run from February 1st, 2012 until the end of March and is being administered through Votigo. By completing the Votigo form and, in turn, liking the Facebook fan page, users will be entered to win the beautiful piece of furniture. The winner's name will be drawn on April 1st (Don't worry, this isn't an April fools joke.) and contacted via the information they gave during the signup. The winner will be shipped the $2,895 Queen size version of the bed in the wenge wood finish with the red lacquer accent finish. Because they have no idea how the winner's bedroom is laid out, they'll get to pick which side the platform is on. The contest is open to all residents of the continental United States and Canada, so long as they're 18 years of age or older.
All of the details can be found on the Votigo contest page. room service 360° wishes the best of luck to all of the entrants and can't wait to ship the bed to the lucky and, undoubtedly, slightly more stylish winner.
###