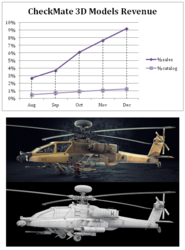 Picking CheckMate models is a no-brainer, without a doubt.
New Orleans, LA (PRWEB) February 06, 2012
TurboSquid, the world leader in stock digital 3D models for VFX and visualization, is pleased to report that CheckMate, its new quality certification program, is proving to be a success. The initiative, the first of its kind for the computer graphics industry, pre-checks 3D models to determine their suitability for visual effects production. In December 2010, just six months after TurboSquid launched the program, CheckMate models were purchased three times more frequently than uncertified models, and at nearly ten times the expected revenue.
CheckMate models, which are supplied by TurboSquid members around the world, are tested against a rigorous 3D modeling standard that TurboSquid developed from surveys and interviews with over 1000 working production artists. As of December, CheckMate models comprised about 1% of TurboSquid's catalog of 250,000+ models, but accounted for nearly 10% of revenue.
Even though CheckMate 3D models cost more, they actually reduce expenses for production facilities. Fixing or building a 3D model can take up a significant amount of an artist's time, increasing the personnel budget for a project. CheckMate 3D models, ready-made and pre-tested for quality, translate directly to a substantial savings in personnel expenses.
"When we buy stock 3D, we're always looking for the best models we can find," says Geoff Hull, 3D Artist at Fox Sports. "The way the topology and texturing is guaranteed, picking CheckMate models is a no-brainer, without a doubt."
As part of the CheckMate launch, TurboSquid created a suite of training videos on how to meet to the standard, and automated tools to pre-check 3D models for compliance. TurboSquid's supplier artists, who receive a royalty every time one of their models sells, have embraced these offerings and risen to the quality challenge. Currently, two-thirds of TurboSquid's top artists participate in the CheckMate program.
"The CheckMate videos and tools have been great. They've made me into a better artist, both technically and visually," says Francesco Prati, one of TurboSquid's best-selling artists. "And when I saw how my sales increased, I was hooked. CheckMate just makes sense on so many levels."
The standard has also garnered interest from production studios as a tool in itself. After a standing-room-only crowd came to hear about CheckMate at the prestigious SIGGRAPH conference in August 2011, TurboSquid received requests from a variety of production studios about in-house adoption. TurboSquid has now made the CheckMate standard publicly available, and studios with specific needs are invited to customize the standard to their pipelines.
TurboSquid is pleased that CheckMate is a win for all sides of the 3D industry. "CheckMate started out as a goal to save our customers time, and now it's helping the entire 3D industry," says Michele Bousquet, CheckMate Ambassador for TurboSquid and a longtime 3D artist herself. "Besides giving our artists a boost in sales, we're contributing to a widespread increase in 3D model quality. It doesn't get much better than that."
###