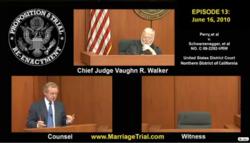 "Our re-enactment remains the sole video documentation of this trial, available for all to see."
Los Angeles, CA (PRWEB) February 02, 2012
Today, the Ninth Circuit Court of Appeals issued a ruling maintaining under seal the court video recordings of Perry v. Schwarzenegger [case # 3:09-CV-02292], the Federal Court trial challenging California's Proposition 8. The twelve days of trial in 2010 were recorded by the presiding judge, Chief Justice Vaughn Walker, but not released for broadcast, after supporters of the ban on marriage equality appealed to the U.S. Supreme Court to block the release, out of fear that they would be targeted for their views.
Within a few hours of the U.S. Supreme Court's ruling blocking the broadcast, a film production team in Los Angeles, led by actor/producers John Ireland and John Ainsworth, was readying a script from court transcripts, securing a courtroom set, and casting actors in an effort to bring the trial to the people by way of re-enactment. With today's ruling, the 65-hour web series remains the only accessible video record of the case.
The cast of 55 actors includes many Hollywood veterans, such as Tess Harper, Adrienne Barbeau, Arye Gross, Pamela Reed, Gedde Watanabe and Armin Shimerman.
The team was advised by constitutional law scholar and Professor David B. Cruz, from the University of Southern California Gould School of Law, which made the replica courtroom available. He reviewed scripts and advised on courtroom dynamics and flow. "People across the country and around the world were eager to watch this trial unfold, so I was eager to help make it accessible after the Supreme Court took the unusual step of blocking broadcast," Cruz said.
"With over half a million views, the MarriageTrial.com project has certainly served the purpose we set out to achieve," says Ireland. "And now, our re-enactment remains the sole video documentation of this trial, available for all to see." Ainsworth agrees. He says, " We were all looking forward to seeing the recordings from the courtroom. As a nation, we deserve to participate in a full discussion about marriage equality… to evaluate both sides' best arguments. I am proud that our project provides that opportunity for all Americans to see our government in action in this landmark case."
###