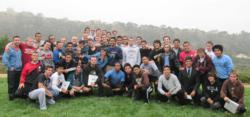 "I knew that my hard work at Crespi over the past four years put me in a promising position." - Michael Leoni
Encino, CA. (PRWEB) February 10, 2012
As Catholic School's Week was celebrated around the nation last week, Crespi Carmelite High School reflected on some special milestones this year. The most important is the Class of 2012 becoming the school's fiftieth graduating class this year. Achieving more than just a graduation milestone, the class of 2012 has already been offered over seven million dollars in college scholarships. As a result of some early college acceptances, this group of seniors is shaping up to be one of the school's all-time best.
Many of the early acceptances for seniors such as Daniel Burns, Francisco Cerda, John Dandridge, Sebastian Edwards, Michael Leoni, Aidan McGarrigle, Alex McFall, Richard Fasani, and Dominic Stella are from some of the top Catholic universities in the nation. These include Boston College, Fordham, Georgetown, Holy Cross College, Loyola Marymount University, Loyal University Chicago, University of Notre Dame, University of San Diego, University of San Francisco, University of Santa Clara, Villanova, and Xavier.
While Edwards committed to Johns Hopkins during National Signing Day Ceremonies at Crespi on Tuesday, January 31, the rest are waiting for the next round of acceptances from the Ivy League and the University of California System. Michael Leoni explained, "I knew that my hard work at Crespi over the past four years put me in a promising position," but he admitted that he was uncertain whether he would be accepted by great schools like Boston College and The University of North Carolina. "It was a relief and an exhilaration to be accepted early to both schools," Leoni added. Although Leoni is still waiting to hear about decisions from Northwestern, Michigan, Dartmouth, Johns Hopkins, and UCLA, he is definitely "going to a good school, as are a lot of my fellow seniors!"
As always, one of the reasons for the high achievements of this class is English teacher, Mr. John King. King teaches the seniors and is the chair of the department. He has helped to develop a true love for literature in his students for forty years. "This is an incredible teaching milestone reached by one of our most distinguished teachers," said Jonathan Schild, Vice-Principal and former student of Mr. King. On Friday, January 27, 2012 the school honored King for his service to the school with a faculty reception and half-time ceremony at the basketball game against Sherman Oaks Notre Dame.
Watch the clip from the half-time ceremony that honored Mr. John King.
King was a student at a Carmelite high school in Houston and then attended the University of Notre Dame. During his time at Crespi, King has been a Carmelite brother, has held the position of Dean of Men, and has coached football and track. John King remains an inspiration to his students and to the staff at Crespi because of his continuing dedication to the school and his care in explicating literature to the young men of Crespi.
On January 13, 2012, the Crespi Carmelite Community proudly congratulated another long-time member of the Crespi Carmelite Community, Mrs. Pat Baker, for her twenty-five plus years of service to the school. The highlight of the night was the surprise appearance by nearly a hundred alumnae cheerleaders and their families for the half-time ceremony during the basketball game against West Hills Chaminade. After the Crespi Cheerleaders were left without a coach in the spring of 1984, Mrs. Baker agreed to temporarily take over the teams until a permanent coach was found. By the end of the school year, she became the coach and stayed for the next ten years.
Watch a video clip from an evening that honored Mrs. Baker.
Baker was able to be with her two daughters and their friends while at Woodland Hills Louisville. After her youngest daughter graduated in 1994, she continued to coach because "Crespi had become an important part of my life." Pat has been fortunate enough to coach over three-hundred girls, meet hundreds of amazing families, witness many championship teams, but most importantly have memories to last a lifetime. She is still dedicated to the Crespi Cheerleaders and recently was promoted to the principal of Our Lady of Grace in Encino.
###