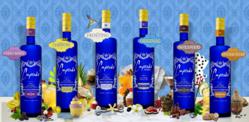 Livermore, CA (PRWEB) February 06, 2012
Cupcake™ Vodka announced today it is welcoming two new flavored vodkas this month, Ginger Snap and Verry Berry, which expand Cupcake's portfolio of super-premium vodkas. The two new flavored vodkas will be available nationally beginning January 2012.
"Cupcake continues to develop delicious new flavors to appeal to its target consumers," noted Margaret McDonnell, Marketing Director. "The new Ginger Snap and Verry Berry flavors are a continuation of a line of products that consumers love to indulge in and enjoy when they want to live deliciously."
Both new vodkas are six-times distilled from 100% neutral grain spirits to ensure the highest quality and purity. They both contain natural flavoring, not sugary sweet syrups, and weigh in at 70 calories per one fluid ounce serving. Cupcake Ginger Snap Vodka ($17.99) is a nuanced vodka with aromas of cinnamon, ginger and clove that conjure memories of freshly baked ginger snap cookies. Similarly, Cupcake Verry Berry Vodka ($17.99) is reminiscent of a berry cobbler with hints of raspberry, blueberry and blackberry. Both vodkas share the signature Cupcake finish: clean, velvety smooth, and deliciously indulgent. Used in a shot or as a key ingredient in a new cocktail, these vodkas are perfect for any occasion that is fun, indulgent and, of course, delicious.
Cupcake super premium vodkas include Original (unflavored), Ginger Snap (ginger), Verry Berry (mixed berry), Chiffon (lemon), Devil's Food (chocolate) and Frosting (vanilla). Each of the Cupcake vodkas carries a suggested retail price of $17.99 per 750ml bottle. Additional information is available at http://www.cupcakevodka.com and http://www.facebook.com/CupcakeVodka.
About Underdog Wine & Spirits:
Underdog Wine & Spirits, an unleashed unit of The Wine Group, is the champion of emerging brands for the new millennium: the "underdogs" of the sometimes stuffy wine and spirits world. We work with domestic and international producers to craft unique adult beverages that are a breed apart. The home of Cupcake, Fish Eye, flipflop, Big House and Octavin, our portfolio includes many of today's most dynamic growth brands. For more information about Underdog Wine & Spirits visit http://www.UDWS.com.
# # #