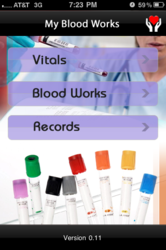 "This is a great app for tracking blood work and meds.So helpful to have this all in one place to take to the dr with me.Highly recomended!" said Dewee926 on iTunes..
(PRWEB) February 07, 2012
Heart disease is the leading cause of death in the United States and is a major cause of disability. The most common heart disease in the United States is coronary heart disease, which often appears as a heart attack. An estimated 785,000 Americans in 2010 had a new coronary attack, and about 470,000 encountered a recurrent attack. Be proactive with "My Blood Works" which includes a complete tracking system for any blood tests and ability to compare with previous blood tests and add as many blood values and tests as you want, keeping a very detailed functional tracking for blood pressure, pulse,weight (optional) that also have their own graphs. Medication are neatly listed with a large description field for any details, Another screen is for any appointments a person has, including outside the medical world. A screen for emergency phone numbers will dial out right from there and they not mixed in your contacts which can be in the hundreds.The final screen is for medical events called "My Records."
All values in "My BloodWorks" are date stamped.
All information within "My BloodWorks" is stored in the APP only. The developer nor any third party have access to "My BloodWorks " APP. Always consult a physician. Ten year anniversary for transplant patient, now has a great Medical APP. to Track' what everybody should be watching health wise
###