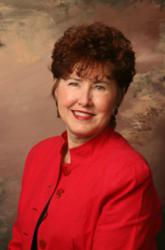 Through our meetings, I have already made new connections and met some fabulous women and together our businesses are growing by helping each other! But even more fabulous are the new friendships being created! This is what I call a 'no-brainer'
Wichita, Kansas (PRWEB) February 04, 2012
The Heart Link Network® would like to introduce Gail Foley, who is a Senior Certified Trainer with SendOutCards and is known locally as "The Hey Card Lady", and is excited to bring this unique women's networking model, created by Dawn L. Billings, exclusively for women, to Wichita.
Gail says, "I am so excited to be partnered with this incredible Heartlink Network. The minute I saw the giving nature of this networking approach for women I knew I'd found what I have been searching for for a long time. Through our meetings, I have already made new connections and met some fabulous women and together our businesses are growing by helping each other! But even more fabulous are the new friendships being created! This is what I call a 'no-brainer'."
The Heart Link Network®, winner of the 2012 Women Entrepreneur Business Award of Excellence, in the "women's networking" category, is known for it's intimate and welcoming networking environment. The Heart Link Women's Network® showcases women small business professionals for 3 full minutes, allowing the networking attendees to get to know the woman behind the name tag, versus other networking groups who only allow their attendees to share for 30 seconds to a minute.
The Heart Link Women's Network® was founded by author Dawn L. Billings, architect of the Primary Colors Personality Test, the patent-pending parent tool, CAPABLES Parent Tool, and Charitable Heart.Org, a 501 3 C non profit organization to benefit important women and children's causes. Dawn was selected as one of 15 Women of Achievement by the YWCA in Cobb County, GA., and one of the nation's 80 emerging women leaders by Oprah magazine and The White House Project.
The nominal $25.00 networking fee covers the cost of the meal and reserves the attendee's business-exclusive spot at the women-only networking event. Go to http://www.67203.theheartlinknetwork.com to register to network with other amazing women in the Wichita area. To submit an application to lead a chapter of The Heart Link Network®, or see a full list of women networking locations available for you to attend, visit http://www.theheartlinknetwork.com
THE HEART LINK Women's NETWORK® was founded by Dawn L Billings, an executive coach and highly sought-after speaker, who is also CEO and Founder of TROVA Business Network, Heart to Heart Media, Find-Success.CO, and creator of TROVA Business Directory and TROVA Women Business Directory.
###