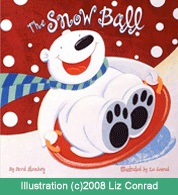 As both a writer and an animator, the chance to see my characters come to life on the iPad is a dream come true.

--David Steinberg
Toronto, ON (PRWEB) February 06, 2012
Award-winning PadWorx Digital Media Inc has teamed with prolific children's author David (D.J.) Steinberg, to create a new interactive edition of his classic storybook, The Snow Ball. The preschool book app follows the whimsical adventures of polar bears enjoying their very own snow day, featuring a snow-filled flurry of interactive animation, dialogue and music on each page. Snow Ball readers can choose from read-to-me or read-by-myself modes, then get to help the book's characters past some pesky penguins to the Snow Ball celebration, in the addictive game, Penguin Attack.
Steinberg, who was an artist, producer and executive on such animated features as Secret of NIMH, Land Before Time, Meet the Robinsons, and Gnomeo & Juliet, was eager to see this app produced as a fitting memorial to the book's acclaimed illustrator, Liz Conrad. Liz illustrated over 20 books in her career and has been recognized by the Society of Children's Book Writers and Illustrators with a new scholarship for budding illustrators in her name. The Snow Ball app is dedicated to her memory and a portion of all proceeds will go to the American Cancer Society.
"Liz had a playfulness in everything she did. Her colors, shapes and textures just dared you not to smile," said Steinberg. "I was lucky to have the chance to work with her on the five holiday books we did together."
"It is fantastic to see Liz's illustrations being brought to life so vibrantly in this new medium," said Diane Capriola, founder of Little Shop of Stories, the renowned bookstore located in Decatur, Georgia, not far from where Liz lived.
The Snow Ball app is available now for iPad 1 and 2, iPhone, iPod Touch, Motorola Xoom and Samsung Galaxy Tab.
Watch The Snow Ball trailer: http://youtu.be/8urY6maYKNM
Available at iTunes App Store: http://itunes.apple.com/us/app/the-snow-ball/id493594196?ls=1&mt=8
Android Market: https://market.android.com/details?id=com.padworxdigital.snowballfull
A free game app, The Snow Ball: Penguin Attack, is also available for download for Apple and Android devices.
For more information on The Snow Ball and other books by the author, please visit author website at http://www.djsteinberg.com.
For more on Liz Conrad, please visit http://www.memorial2u.com/Liz_Conrad/id/104.
For additional information on PadWorx, please visit http://www.padworxdigital.com
About PadWorx Digital Media Inc:
PadWorx Digital Media Inc., founded in 2010 and with offices in Toronto, Ontario, and Los Angeles, California, is an independent developer of apps for tablet PCs including the Apple iPad. The development team is dedicated to combining proprietary technology and innovative ideas in order to create new ways for readers to experience entertainment and literature. PadWorx products are developed on their own proprietary game engine. For more information about PadWorx Digital Media, please visit http://www.padworxdigital.com.
###