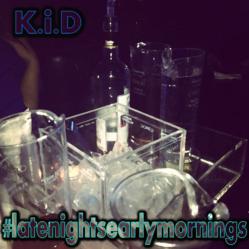 Miami, FL (PRWEB) February 03, 2012
Hip hop artist K.i.D recently released his mixtape "#latenightsearlymornings." Coast 2 Coast Mixtapes presents the project, which is now available for free download. "#latenightsearlymornings" features tracks like "Not Without a Fight," "Dreamer," and "Gamblers." Production credits include ArnoldXJames, WakenBake, Audiodoctor, and B-line.
K.i.D was born in Europe, but raised in Southside Chicago. Coming up, he used to sit with his Talkboy and record songs off the radio, listening to them in slow motion to learn the lyrics. One of his early memories is receiving a box of CDs from his stepfather filled with Tupac albums—the rapper who is still his all time favorite artist. Once he got a little older, K.i.D stopped focusing on hip hop and got into dance music, but in 2009, he started to pay attention to what was going on in Chicago's local hip hop scene. Once he got involved, he was hooked. He began to write rap songs and random lyrics, which he then started to record.
K.i.D lists his influences as any rapper who keeps it honest with music, including Tupac, KiD CuDi, MURS, Asher Roth, Nottz Raw, Jay-Z, and Kanye West—appreciating that, though it is fun to rock out to songs about money and women, that isn't what music and life are all about. He started working on "#latenightsearlymornings" about a year ago, but didn't feel that he was ready to release it with the material he had. Promising himself that he would have the mixtape completed by January 2012, K.i.D spent countless hours in the studio writing lyrics and looking for beats. K.i.D has a number of beats already on deck for his as-yet-untitled next project, to be released sometime in the middle of 2012. He plans to take plenty of time and care in writing, however—wanting to craft lyrics that people can relate to and think, "Damn, that was dope."
"#latenightsearlymornings" is available for free streaming and download at http://coast2coastmixtapes.com/mixtapes/mixtapedetail.aspx/k-i-d-latenightsearlymornings
###