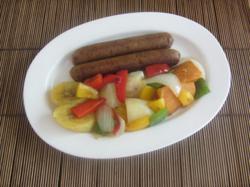 We saw a lot of new traffic at the beginning of each month, but that traffic would quickly fall off since the next issue was not posted until the 15th of the month, so, ... It made sense to change the date
Chicago, IL (PRWEB) February 03, 2012
The first issue of the newly updated "Vegetarian Spotlight" is rolling out at the beginning of the month, a change from the mid-month roll out of the previous iteration of the magazine, which highlights vegetarian recipes, articles on health and the vegetarian lifestyle, food facts and more.
The vegetarian magazine was initially launched as a hobby project by Elvis Rodriguez, founder of the free online magazine. The original launch schedule had the upstart magazine posting out to subscribers on the 15th of each month. As traffic grew however, Rodriguez knew he needed to make a switch.
"We saw a lot of new traffic at the beginning of each month, but that traffic would quickly fall off since the next issue was not posted until the 15th of the month, so a lot of people were missing out on the new content. It made sense to change the date," stated Elvis.
The new date for each issue will be the 1st of each month, with digital notifications sent to subscribers on the launch of each issue.
The roll out date each month isn't the only thing that's changing. Over the last year, the magazine has seen steady growth through new readership and returning readers. With that growth, additional content and writers were brought in to ensure the magazine provided as much value as possible.
"Vegetarian Spotlight" is available for free. To read the latest issue and benefit from the new content additions of this vegetarian magazine visit http://www.VegetarianSpotlight.com
###