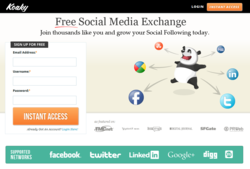 We plan to take things to the next level, to allow mobile applications to use our platform with ease. --JP Bisson
Cebu, CEB (PRWEB) February 06, 2012
Clicking Labs the leading provider of Web 2.0 business applications launched its free social media sharing tool, Koaky in late 2011. Koaky is a social media exchange platform that helps businesses, individuals and organizations grow their social networks through a unique and mutual system. Koaky is simple to use to get Facebook likes, Twitter followers, Web traffic and shares.
Today, the team behind Koaky is preparing another surprise for the community and its members. "We're getting a facelift again! Month after month, we notice that it's really getting bigger and it's our way of showing our appreciation for our members. They've shared a lot of feedback on how to make our social network platform better," says UI Specialist and Lead Designer, Diana Quartin.
"We plan to take things to the next level, to allow mobile applications to use our platform with ease. We see how well it's doing and we just want to continuously challenge ourselves so that we can be the number one in this industry. Which is why we are upping our game and providing better user-friendly interfaces for our users," adds partner and Managing Director, JP Bisson.
Koaky is the latest service online to easily grow your social networks. The process is simple and easy to use. It works on a point system in order to regulate the credits necessary to earn fans, followers and likes. Koaky currently offers the following social networks such Facebook, Facebook Share, Twitter, Retweet, Digg, Google Plus, Stumble Upon, and LinkedIn. The team is currently in development for Tumblr services.
To learn more about Koaky, visit their website at http://www.koaky.com and start growing social networks.
About
Koaky is a wholly owned company by Clicking Labs. With dedication and perseverance they were able to bring together a diverse team of web professionals to provide internet businesses with creative web marketing strategies. Founded in Ottawa, Canada, the company has expanded operations to Cebu, Philippines in early 2011 to better serve its clients.
###