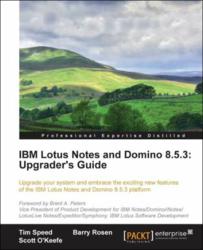 Birmingham, UK (PRWEB) February 04, 2012
Packt Publishing is pleased to announce IBM Lotus Notes and Domino 8.5.3: Upgrader's Guide a new book and ebook aimed at understanding the new features of Lotus Notes and Domino 8.5.3 and putting them to work in any business setup. IBM Lotus Notes and Domino 8.5.3: Upgrader's Guide is an update to the 2010 title: IBM Lotus Notes and Domino 8.5.1
Written by Tim Speed, Barry Rosen, and Scott O'Keefe, this book enables readers to quickly upgrade existing systems and leverage the full capabilities of Lotus Notes and Domino 8.5.3. The book highlights new features of the Lotus Notes and Domino 8.5.3 suite and documents the technical features in a descriptive way, with examples and useful screenshots.
IBM Lotus Notes and Domino 8.5.3: Upgrader's Guide covers details on the SOA characteristics of Lotus Notes, features and changes in Lotus Notes Client 8.5.3, and an overview of productivity tools: Lotus Symphony Documents, Lotus Symphony Presentations, and Lotus Symphony Spreadsheets amongst others.
Table of Contents
Chapter 1: Lotus Notes 8.5.3 and SOA
Chapter 2: Overview of New Lotus Notes 8.5.3 Client Features
Chapter 3: Productivity Tools
Chapter 4: Lotus Domino 8.5.3 Server Features
Chapter 5: Deployment Enhancements in Notes/Domino 8.5.3
Chapter 6: Domino 8.5.3 Enhancements
Chapter 7: Upgrading to Lotus Notes and Domino 8.5.3
Chapter 8: Coexistence between Notes/Domino Releases
Chapter 9: New Features in Notes/Domino 8.5.3 Development
Chapter 10: Integration with Other Lotus/IBM Products
Chapter 11: Domino Configuration Tuner
IBM Lotus Domino software is a world class platform for critical business, collaboration, and messaging applications. With Lotus Notes and Domino 8.5.3, IBM has once again provided business users with an intuitive, fully integrated platform to enhance each user's experience with business communications, while reducing Total Cost of Ownership (TCO) and increasing Return on Investment (ROI).
Packt Publishing has also released and is due to publish other IBM titles:
IBM Lotus Notes and Domino 8.5.1
IBM Lotus Notes 8.5 User Guide
IBM Lotus Sametime 8 Essentials: A User's Guide
IBM Sametime 8.5.2 Administration Guide
IBM DB2 9.7 Advanced Application Developer Cookbook (Due 2012)
All IBM books are published by Packt Enterprise. Packt Enterprise is a publishing division of Packt Publishing created to serve the information needs of IT Professionals in the Enterprise space. Packt Enterprise also publishes on Microsoft, IBM, Oracle, Citrix, Java, Amazon, Google and SAP technologies.
###