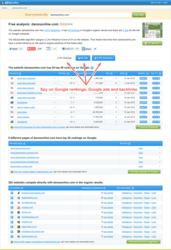 Spy on your competitors and outperform them on Google.
(PRWEB) February 07, 2012
Yahoo's Site Explorer was a very important source for businesses who want to get SEO relevant information about their competitors. Yahoo closed the popular service at the end of last year. That means that Yahoo no longer offers information about competing websites.
SEOprofiler is a web app that helps businesses to get important competitive information quickly and easily:
1. Spy on the backlinks of any website
The links that point to a website are Google's most important ranking signal. The backlink analysis tools in SEOprofiler enable businesses to find out why their competitors rank highly for particular keywords.
By reverse-engineering the backlink strategy of their competitors, businesses can outrank them on Google.
2. Spy on the Google rankings of your competitors
SEOprofiler also enables businesses to spy on the organic rankings of a website on Google. That enables businesses to get a detailed overview of the search engine presence of any competitor.
3. Spy on the Google AdWords ad campaigns of your competitors
Detailed information about the Google AdWords ad campaigns of your competitors is also available on SEOprofiler: which ads do your competitors run for which keywords in which regions? The answers to these questions can help businesses to get more customers through Google's ad system.
The competitive intelligence tools in SEOprofiler provide much more information than Yahoo's SiteExplorer did. Businesses who are interested in getting higher rankings on Google, Yahoo and Bing get a good alternative with SEOprofiler.
A free analysis of any website is available at the SEOprofiler website: http://www.SEOprofiler.com/x/analyze
In addition to the new competitive intelligence tools, SEOprofiler offers a complete suite of SEO tools that help businesses to get more customers through Google and other search engines:

Link building and link management tools
Keyword research, analysis and management tools
Web page optimization tools
Web page ranking monitor
Social media tools
Google AdWords ads research and optimization tools
Tutorials and communities
Further information and a free account are available at "http://www.SEOprofiler.com".
# # #