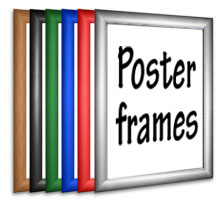 Black poster frames in particular have proved to be one of our best sellers of 2012
(PRWEB UK) 6 February 2012
The new collection of poster frames has been developed to include stylish coloured frames such as silver, black, blue, red, green and wood affect as standard all available for next day delivery. All units are offered in all the popular 'A' sizes such as A0, A1, A2, A3, A4 and A5 with custom sizes and finishes available to order.
Key products:
Standard Poster Frames - These units have a snap frame mechanism which allows for an easy poster change. Each wall display is supplied with a protective anti-glare sheet keeping posters securely in place. Units are pre-drilled and once in position all fixings are neatly hidden.
Tamper Proof Poster Frames - A popular choice for those wanting a more secure wall mounted display. These units have an Allen key locking mechanism and as with the standard grip frames are supplied with anti-glare protective sheets. These units are ideal for service stations and schools where tampering and vandalism may be more common place.
Lockable Poster Frames with Hinged Door - One of the most robust notice boards available on the market. These lockable poster frames have a 45mm aluminium profile and sturdy hinged door. The waterproof seal means they can be used with confidence as both an indoor and outdoor display.
"As a company we are constantly looking at expanding and developing into new exciting areas," said Jeff Haydon, RAL Display's sales manager. "Black poster frames in particular have proved to be one of our best sellers of 2012 so far."
More about RAL Display's Products & Services
RAL Display has been established for over 30 years and offers exhibitors of trade show displays a comprehensive range of portable display stands including pop up stands, poster boards, banner stands, display boards, poster frames, office screens, brochure holders, sign holders, menu boards, portable counters and window displays.
As well as expanding their range of poster frames RAL Display has also launched an exciting new line of window displays, including LED backlit window panels. The range is ideally used as estate agent displays and as retail window displays.
For more information please visit RAL Display
###