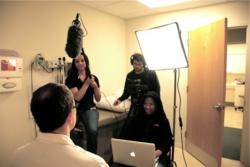 M.INK Productions® - Delivering superior digital content consultation, creation and award winning services in a high tech world.
Livingston, NJ (PRWEB) February 03, 2012
M.INK Productions®- which delivers superior digital content consultation, creation and award winning services in a high tech world - has earned three digital marketing and communication awards in the 2011 AVA Awards competition for its production work with Summit Medical Group.
The award-winning M.INK Productions team has also earned national recognition for its digital content creation from MarCom Awards and Healthcare Advertising Awards.
AVA recognizes outstanding achievement by creative professionals involved in the concept, direction, design and production of media that is part of the evolution of digital communication. Work ranges from audio and video productions to websites and social media sites that present interactive components such as video, animation, blogs, and podcasts - to other forms of user-generated digital communication.
M.INK Productions' winning entries include:
Platinum - Summit Medical Group Medical Monday, Web Video/Medical External Category
Gold - Summit Medical Group Virtual Tour, Web Video/Company Overview Category
Honorable Mention - Summit Medical Group Live Well Sports & Health Festival, Web Video/Event Category
There were more than 1,700 entries from throughout the United States, Canada and several other countries in the 2011 competition. Entrants included digital professionals from audio, video and film production companies; web developers; advertising agencies; PR firms; corporate and government communication departments; and independent creative professionals such as designers, producers, directors, editors and shooters.
AVA Awards is sponsored and judged by the Association of Marketing and Communication Professionals (AMCP). The international organization consists of several thousand production, marketing, communication, advertising, public relations, and free-lance professionals. AMCP administers recognition programs; provides judges and rewards outstanding achievement and service to the profession. As part of its mission, AMCP fosters and supports the efforts of creative professionals who contribute their unique talents to public service and charitable organizations.
Judges are industry professionals who look for companies and individuals whose talent exceeds a high standard of excellence and whose work serves as a benchmark for the industry.
Winners were selected from over 200 categories in Audio, Video, and Web-based production. About 14% of the entries won the Platinum Award, the organization's top honor. A complete list of Platinum Winners can be found on the AVA Awards website at http://www.avaawards.com.
About M.INK Productions
M.INK Productions® LLC is a content creation organization for the digital age - conceptualizing, writing, producing and creating high quality digital content for the Internet and Television. With creativity and innovation, M.INK Productions helps companies (small, mid-size or large) take a quantum leap forward, or simply keep competitive, by creating Web Originals that supports their brand, educates and engages current customers, attracts new ones, and/or increases revenue. Video is one of the most powerful tools for branding, reaching customers and strengthening social media presence. M.INK Productions helps clients of all sizes meet their video needs for marketing, PR, and social media and more, by consulting, training, providing on-camera and voice-over talent and creating high quality, original content - presenting and communicating their message to sponsors, investors, customers and employees. M.INK Productions is also the creator of successful web original business news show, IFV News, http://www.ifvnews.com. Our sister company StringStream Media creates original music and sound design for M.INK Productions and other companies. For more information, visit minkproductions.tv.
About Summit Medical Group
Summit Medical Group (SMG) is the largest privately held multispecialty medical practice in New Jersey. SMG has pioneered information technology advances in health care with its early adoption of electronic health records and e-prescribing. With more than 270 highly qualified healthcare providers, it is one of the most unique health care models in the state. SMG has an award-winning customer service program and NJBiz magazine has named it one of New Jersey's "Fifty Fastest Growing Companies". SMG treats more than 55,000 patients per month at its main campus in Berkeley Heights, as well as its satellites in Berkeley Heights, Morristown, Millburn, Short Hills, Springfield, New Providence, Warren, and Westfield. As one of the East Coast's premier multispecialty groups, SMG has provided exceptional primary and specialty care since 1929. For more information, summitmedicalgroup.com.
# # #