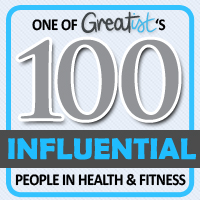 "Training with resistance bands is my passion, and I have devoted my career to teaching about them. It is very humbling to be honored for it" - Dave Schmitz
Elizabethtown, KY (PRWEB) February 06, 2012
Dave Schmitz, a leading resistance band training expert, has just been named one of the 100 Most Influential People in Health and Fitness by Greatist.com. He joins a list which includes Dr. Oz, the Dalai Lama, Dr. Sanjay Gupta, and First Lady Michelle Obama.
In announcing the list, Greatist.com noted that that factors they considered to qualify included "the trends they've set, the products they've created, and how long they've worked in their area of expertise." The website also considered social media presence and other formal recognition.
Dave Schmitz is a noted expert in the field of resistance band training. Since starting as a physical therapist, Schmitz has taken bands from an injury rehab tool to a means of boosting athletic performance. In addition to training athletes, he lectures and offers band training advice on his blog.
The website remarked upon Schmitz's enthusiasm for training with resistance bands, marveling at how Schmitz has turned resistance band programs into a "must-use for high performance athletics."
For his part, Dave Schmitz is honored to appear along such notable names as the First Lady and the Dalai Lama. "Training with resistance bands is my passion, and I have devoted my career to teaching about them. It is very humbling to be honored for it," Schmitz said.
A resistance band program can be done by itself or, to greater effect, as a complement to strength training programs. Band workouts help people to reach their fitness goals in a number of ways, including by increasing mobility, alleviating joint pain, and improving strength.
Resistance band workouts make use of the forces of momentum, gravity, and ground resistance, which is not the case in standard weightlifting. As a result of the different movements available with bands, resistance band programs improve explosiveness through a range of movements.
The creators of the list took special note of Schmitz's leadership in the field of band training, singling out his blog as well as the products he has created. Recently, Schmitz released a Resistance Band Certification aimed at improving the skills of those who train young athletes.
Schmitz notes, "Resistance band trainers, like other strength trainers, need to be qualified for bands to work with kids."
In this resistance band training instructor course, Dave Schmitz takes trainers from the basics of resistance bands through advanced workouts. It comes with 7 DVDs and a comprehensive manual which includes beginner, intermediate, and advanced resistance band training programs.
To learn more about the resistance band certification, visit: http://resistancebandcertification.com/.
About Dave Schmitz: Dave Schmitz is the Co-Owner of Resistance Band Training Systems, LLC and the creator of http://www.resistancebandtraining.com.
ResistanceBandTraining.com is a member of the Fitness Consulting Group family of companies. It is the only website exclusively devoted to training with large continuously looped resistance bands.
####