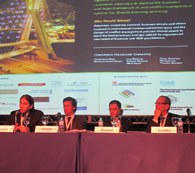 My job is to help our American clients.
São Paulo, Brazil (PRWEB) February 07, 2012
Greg Barnett, an American lawyer from Miami, has joined Angélico Advogados, a Brazilian law firm in São Paulo, Brazil, as a foreign legal consultant. One of few American lawyers working at Brazilian law firms, Barnett coordinates the firm's growing international practice. Together with the firm's Brazilian lawyers, Barnett helps US clients who want to do business in Brazil.
The time is right for foreign investors in Brazil, and US clients in particular are capitalizing on Brazil's favorable economic conditions. American clients are seeking foreign investment opportunities: they are forming companies; they are acquiring businesses; and they are investing in real estate. Yet few Brazilian law firms have an American lawyer in their office to help American clients.
"Our law firm is different from other Brazilian law firms," says Marcelo Angélico, founding partner of Angélico Advogados. "We have a team of Brazilian lawyers dedicated to helping US clients, and this team is led by an American lawyer."
Barnett, who was a member of the Latin America practice at Greenberg Traurig, has a master's degree in international law and has lived in Costa Rica and Mexico. Now, as a Brazilian resident, he is well-suited to help foreigners who are considering business opportunities in Brazil. "We try to make it easy for our clients who are unfamiliar with doing business here," says Barnett. "My job is to help our American clients."
But advising foreign clients in Brazil is no simple task. There are frequently language and cultural barriers, and there can be drastic differences in the business and legal practices. Yet who better to help American clients with these challenges than an American lawyer, together with the resources of a Brazilian law firm.
Recently the Centre for Economics and Business Research in London announced that Brazil had overtaken the UK as the world's sixth largest economy. This news, combined with the growing anticipation surrounding the 2014 World Cup and 2016 Olympic Games, is leading international investors to seriously consider new business opportunities in Brazil. And now, with the help of an international law firm like Angélico Advogados, Brazil is becoming an easier place for foreigners to do business.
For more information about Angélico Advogados, visit http://www.angelicolaw.com or contact the firm at contact(at)angelicolaw(dot)com.
###