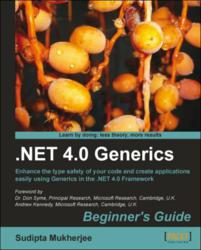 "This book introduces readers to the world of elegant programming in C# and other .NET languages". Dr. Don Syme, Principal Research, Microsoft Research, Cambridge, U.K
UK (PRWEB) February 06, 2012
Birmingham: Packt Publishing is pleased to announce the publication of .NET 4.0 Generics Beginner's Guide - a book full of real world examples and interesting applications that explain fundamental concepts such as type safety, Generic Methods, and Generic Containers. It focuses on the importance of each Generic collection and Generic class and how to use them. The book is available in print and eBook formats from Packt and other leading retailers.
Packt's .NET 4.0 Generics Beginner's Guide acts as a tutorial to start writing type-safe applications using generic data structures available in Generics API. As the book progresses, it demonstrates how to join several generic containers to achieve goals and query them efficiently using Linq, providing short exercises in every chapter. Readers will learn to use certain important algorithms seamlessly with other generic containers, which are present in PowerCollection but are missing from .NET framework.
Chapter 1: Why Generics?
Chapter 2: Lists
Chapter 3: Dictionaries
Chapter 4: LINQ to Objects
Chapter 5: Observable Collections
Chapter 6: Concurrent Collections
Chapter 7: Power Collections
Chapter 8: C5 Collections
Chapter 9: Patterns, Practices, and Performance
Andrew Kennedy, Microsoft Research, Cambridge, U.K., in his Foreword says "Generics really does start with List T, and this book sensibly begins from there. The style is very much one of exploration: the reader is invited to experiment with Generics, prodding and poking a generic type through its methods and properties, and thereby understand the type and solve problems by using it."
Packt Publishing is a world leader in providing books, eBooks and other educational IT content. Packt Enterprise is committed to delivering focused titles, all of which are available through Packt's own in-house library platform, PacktLib, along with over 760 additional Packt titles. PacktLib offers all Packt's titles through any web browser connected to the internet. Subscribers can print, copy, paste and bookmark content.
###