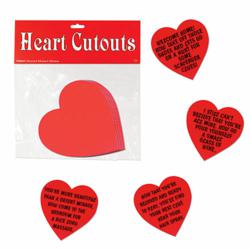 South Whitley, IN (PRWEB) February 07, 2012
Many believe Valentine's Day to be an over-commercialized holiday, hyped by retailers looking to cash in on yet another gift-giving opportunity. Others know the true meaning of Valentine's Day honoring the martyred Saint Valentine of ancient Rome after which the holiday is named. Shindigz knows that no matter what your opinion of the heart-shaped holiday, if you're of the male gender, there's one thing for certain: much is expected of you on this day, whether you like it or not.
Have no fear, gentleman! The gals at Shindigz party supplies have gone against the "girl code" and conspired to offer you 6 sexy ideas to help ensure that your Valentine will be swept off her feet. So guys, it's time to focus and pay close attention.
Unique Valentine ideas we think are AWESOME:

Heartbreaker: Write love notes on a small piece of paper and insert them into heart shaped balloons before blowing them up. Throughout the evening, pop a balloon and let her read the note inside. The notes can be "20 Questions" if you're still getting to know each other.
Scavenger Hunt: Prepare several clues on heart-shaped cutouts to be placed around the house. Blindfold your girl, place the first clue in her hand, ask her to count to 30 and run to hide. The first clue will lead her to another clue and then another. The final clue will lead her to a romantic dinner on the patio or a candle lit massage in the bedroom. She'll be putty in your hands.
Heart-shaped dinner: Make a homemade, heart-shaped pizza. Or, mix up a batch of pancake batter and use a heart shaped mold to create heart shaped pancakes. Get creative with the syrup for a more risqué meal, if you know what we mean.
Double, triple or quadruple the fun: Celebrate Valentine's Day with friends instead of just the two of you. This takes the pressure off a new couple or a relationship that hasn't quite been "established" yet. Have the guys cook dinner while the girls plan some fun homemade games like "Battle of the Sexes" or "The Newlywed Game."
Roses are red: Everyone knows red roses are a symbol of romance. So plan ahead and hide long-stemmed red roses or rose petals everywhere you plan to take your date. Place one in the front seat of the car. Ask the waiter to bring one to the table at dinner. Arrange a romantic carriage ride with a red rose awaiting your Valentine in the carriage. Place one on her pillow or in the shower. Not going out? Arrange with her workplace to have a co-worker bring her a rose every 30 minutes all day long. Attach a love note to each rose for a personal touch.
The Date of Memories: Take your Valentine to all the places that mean something to you. Start the evening by taking her to the restaurant where you had your first date. Then arrange a romantic dessert picnic at the park where you had your first kiss. Give her a gift at the spot where you asked her to marry you. Take her dancing at the place where you had your first slow dance. At the end of the evening, she'll be reminded of all the times when you first fell in love.
These unique Valentine's Day activities are almost guaranteed to leave your lover wondering how she ever got so lucky to find you. You're welcome.
About Shindigz: Since 1926, Shindigz has "made life more fun" for 21 million events through the manufacture and sale of personalized party supplies. Its family of brands includes Shindigz, Stumps Party, American Prom, and SpiritLine. It ships products from its facilities in South Whitley, Indiana across the United States and around the world to 59 countries. With more than 36,000 products, it provides customers with a complete party solution. For more information about Shindigz, go to http://www.shindigz.com.
###