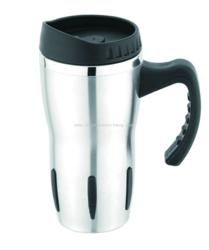 Retailers and small distributers are welcome, we are able to deal with manufacturer directly, bypassing higher distributors
(PRWEB) February 04, 2012
China Zhejiang Wuyi Fangda stainless steel products Co., Ltd., a large mug supplier specialized in producing series of mugs, has extended its marketing channel by launching a new department for small orders.
As a leading mug manufacturer with more than 10 year experience, Zhejiang Wuyi Fangda stanless steel products Co. enjoys good reputation and sophisticated manufacture technique. However, they are facing serious marketing challenges nowadays. Due to global recession, orders overseas are shrinking. On one hand, the raw material and labor cost is running up. On the other hand, big agency still profit much from distribution hierarchy, and they demand very low price from factories. After extensive market analysis, Fangda stanless steel products co. decided to attract more possible clients by launching a new department for small orders with MOQ (Minimum Order Quantity) ranging from 1000pcs to 50,000pcs.While their MOQ used to be 50,000pcs, dealing with big distributors only. Now they are adopting more flexible policy, with reduced MOQ, the manufacturer starts coping with small business partners.
"Retailers and small distributers are welcome", says Hong Tu, chief marking officer, "Nowadays we are able to deal with manufacturer directly, bypassing higher distributors".
Like most large manufacturers, Zhejiang Wuyi Fangda Stanless Steel Products Co. traditionally lies in end of commercial chain, focusing on production and passing goods to big general agency. By reducing the MOQ, the manufacturer begins to offer goods directly to various clients, including median company and retailors. The commercial chain is shorter, thus saving more profit in circulation. Although facing challenges such as logistic challenge, psychological barrier and adaptive difficulty, B2B segment still has vast market potential.
Located in the China stainless steel capital - Yongkang, Zhejiang Wuyi Fangda Stanless Steel Products Co.is a modern enterprise specialized in producing series of stainless steel vacuum thermos, sport bottle, auto mug, travel mug, hip flask and coffee pot, etc. This company offer wholesale mugs for customers all over the world in more than 30 countries and regions, including famous companies such as Microsoft, AIG, and Seven-Eleven.
Fangda modern facility occupies six automatic roll-coating production lines, each of which is able to produce up to 10,000 drinkware items per day. Their mugs are certified by FDA, BPA FREE, LFGB certification systems as safe, green and high-quality. All the materials are eco-friendly. The steel contains no heavy metals. The plastic is BPA-free. And the custom logos are printed with nontoxic inks. Every month R&D staff would update the product catalogue with several new designs. The company also offer flexible customize and various operation random extend function for customers.
###