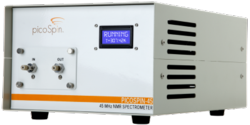 picoSpin is really changing the world of NMR spectroscopy. Previously, having this powerful technology on the benchtop at an affordable price was only a dream for those performing chemical analysis around the world
Boulder, Colorado (PRWEB) February 06, 2012
picoSpin, maker of the world's first miniature NMR spectrometer, announced today that Jeff Sherman has joined the company as its new Director of Global Sales. Jeff will work closely with Cole-Parmer, picoSpin's exclusive international distributor, and will also lead direct sales within the US.
picoSpin's breakthrough product, the picoSpin™-45 miniature NMR spectrometer, delivers true high-resolution NMR spectroscopy in a shoe-box sized package at a cost far below any previous technology. It was a 2011 Edison Awards Winner for best new product.
John Price, President of picoSpin, commented, "Chemists in every sector, from education to manufacturing, have recognized that the picoSpin™-45 is an important new analytical tool. Our distribution partner Cole-Parmer has seen strong demand for the product, and has responded by fully supporting us with their worldwide sales and marketing operation. Jeff Sherman will leverage Cole-Parmer's commitment by adding to the picoSpin team a leader with decades of experience in sales and marketing of chemical analytical instrumentation."
Anand Shirur, Director of Global Sales at Cole-Parmer, remarked, "We at Cole-Parmer are very excited about the picoSpin™-45. This remarkable technology revolutionizes the usage and acceptance of NMR. High-cost NMR devices have priced many out of the market. However, the picoSpin™-45 makes NMR spectroscopy accessible for basic research, quality control, and educational applications. We have received encouraging feedback from our global customers and dealers. We welcome Jeff Sherman as he joins the picoSpin team and look forward to leverage his experience in enhancing our customer experiences."
Jeff added, "picoSpin is really changing the world of NMR spectroscopy. Previously, having this powerful technology on the benchtop at an affordable price was only a dream for those performing chemical analysis around the world. I am excited to have the opportunity to bring this valuable tool to students, chemists, and analysts globally. I am truly delighted to have a distribution partner with the reputation and worldwide access to market that Cole-Parmer offers. We plan to accelerate the awareness and availability of the picoSpin™-45 to those who can now realize the benefits of having an NMR on their own benchtop."
Jeff Sherman comes to picoSpin from Mettler-Toledo AutoChem, Inc., the market leader in analytical technologies for the pharmaceutical and high value specialty chemical markets. Mettler-Toledo AutoChem technologies include in-situ FTIR, particle systems characterization, calorimetry, and automated lab reactor products. Jeff rose to several strategic positions within Mettler-Toledo AutoChem, including Head of Business Development for the Americas, Advanced Technology Development, Head of Worldwide Sales for AutoChem and General Manager of two different units within AutoChem. He has strong experience in supporting distribution and sales channels in many parts of the world, including US, Asia-Pacific, Europe, Canada, and Latin America. Jeff was also recently Vice President of Worldwide Sales at Block Engineering, a leading developer of MEMS, QCL Laser and FTIR spectroscopy sensors.
Jeff holds a PhD in Analytical Chemistry from the University of Georgia, Athens, and a BS in Chemistry from Shippensburg University of Pennsylvania. His PhD thesis focused on the use of FTIR spectroscopy and chemometric methods for analytical chemistry applications.
About picoSpin: picoSpin, LLC, Boulder, Colorado, USA, was founded in 2010 by its Chairman, Charles E. Miller, together with a team of scientists and engineers. The mission of picoSpin is to develop, manufacture, and market miniature NMR spectrometers. picoSpin's products are used wherever chemists required rapid and cost-effective access to analytical spectroscopy. Proven applications include quality analysis, quality control, chemical education, and process development. Please visit us at http://www.picospin.com.
About Cole-Parmer: Cole-Parmer, the exclusive international distributor for the picoSpin™-45 Benchtop NMR Spectrometer, has been a leading global source of laboratory and industrial fluid handling products, instrumentation, equipment, and supplies since 1955. Our product lines, including popular brand names such as Masterflex®, Oakton®, and more, are sold through company-owned customer channel outlets and a strong network of international dealers. We also feature an ISO-17025-accredited metrology lab for instrument calibration and repair. Cole-Parmer responds with excellence to customer needs, and offers application expertise and technical support. For more information, contact Cole-Parmer, 625 East Bunker Court, Vernon Hills, IL 60061. In the US, call 800-323-4340. International customers, call 847-549-7600. Visit us at http://www.coleparmer.com.
###