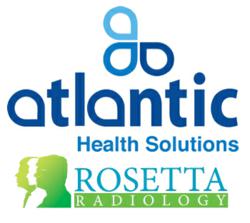 We are confident that the individual focus and attention the group receives from Atlantic Health Management Solutions will enable us to continue providing excellent imaging and interpretation services fo
New York, New York (PRWEB) February 07, 2012
Atlantic Health Management Solutions is delighted to announce their newest radiology practice management contract with Rosetta Radiology located on the Upper East Side of Manhattan, New York. The exclusive relationship between Atlantic Health Solutions and Rosetta Radiology integrates industry leaders in radiology practice management and diagnostic imaging and radiation therapy care in New York.
Atlantic Health Management Solutions' proven models for enhanced patient volume and revenue cycle management will be implemented at Rosetta Radiology through the following services and solutions:

Operational Management Oversight
Billing and Collections Management
Provider Contracting and Credentialing
Marketing Management
Atlantic Health Management Solutions' specialized radiology practice management experts and services will assist Rosetta Radiology with a flexible physician outreach program and management services to fine-tune our practice's performance, states Dr. Emily Sonnenblick. "We are confident that the individual focus and attention the group receives from Atlantic Health Management Solutions will assure our continued operational success, which will enable us to continue providing excellent imaging and interpretation services for our patients."
Rosetta Radiology has been the standard for high quality diagnostic imaging and radiation therapy for the past 50 years. Known for its excellent women's imaging and radiation therapy services, Rosetta Radiology prides itself on its superior technology and personalized patient experience.
About Rosetta Radiology
Since its opening in the 1960s, Rosetta Radiology has served the city of New York with the highest quality radiation therapy and diagnostic imaging services. Pioneers in radiation oncology and experts in diagnostic imaging, Rosetta Radiology was one of the city's first independently owned outpatient facilities. Now located at 1421 Third Avenue between 80th and 81st Street, Rosetta Radiology is fully accredited by The American College of Radiology and serves a vast patient population with the highest quality services for Mammography, Ultrasound, X-Ray, Breast Imaging and Biopsy, Breast MRI, Body MRI, CT Scanning, and Radiation Oncology. Known for their special combination of state-of-the-art technology and patient-centric care, the facility is led by their onsite radiologists; Dr. Alfred Rosenbaum, Dr. Stanley Rosenfeld, Dr. Emily Sonnenblick, Dr. Ayala Rosenbaum and Dr. David Sherr.
About Atlantic Health Solutions
Founded in 2001, Atlantic Health Solutions' mission is to set new performance standards when providing revenue cycle management and practice management services to physicians in both the hospital and outpatient setting. Atlantic Health Solutions achieves this through its rich experience in the industry, various technologies, transparency, and its consistent approach to quality. Atlantic Health Solutions provides billing, collection and practice management services to more than 50 radiology and radiation oncology facilities throughout the US and has helped clients streamline their practice operations, reducing overhead and increasing profitability.
###