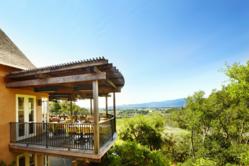 "Our guests are active, inquisitive and eager to explore," said Mark Harmon, CEO, Auberge Resorts.
Mill Valley, CA (PRWEB) February 17, 2012
Auberge Resorts owners and operators of award-winning luxury resorts and clubs in some of the most desirable destinations in North America, added another dimension to the guest experience with the launch today of "Auberge Adventures," an extensive collection of programs offering exploration, enrichment and discovery.
Auberge Adventures were inspired by the culture, natural environment and history of each Auberge property's iconic setting, from verdant Napa Valley to the sweeping landscapes of Santa Fe, the Rocky Mountains of Aspen, Coastal Baja and the history-rich Carolina Lowcountry. Programs range from culinary experiences to fitness and cultural explorations. Created exclusively for Auberge guests, many of the programs are led by local experts and leaders in their field.
"Our guests are active, inquisitive and eager to explore," said Mark Harmon, CEO, Auberge Resorts. "Auberge Adventures go beyond the conventional to offer new and different ways to experience a destination. When added to the idyllic settings, world class dining and spas at our resorts, we believe a little adventure or exploration makes for the perfect resort getaway."
Highlights of the Auberge Adventures program include cultural explorations, such as:
Adventure programs include:

Alligator-tracking in South Carolina: Guided by a naturalist, guests of The Inn at Palmetto Bluff will use radio telemetry to track and observe American alligators in their natural habitat;
Twilight Dog-Sledding in Aspen: On Hotel Jerome's breathtaking adventure, guests are whisked through a still, snowy wonderland by powerful huskies guided by an expertly trained musher. The experience begins at dusk and ends with a four-course dinner;
Abalone-Diving in Northern California: Calistoga Ranch's free-diving excursion takes guests to a protected cove to hunt for this local delicacy;
Surfing with the Locals in Baja: An adventure to the surfing hot spot of Los Cerritos, where a local will teach guests how to ride the northern swells; and
Guided hiking in New Mexico: Scenic hikes through majestic rock formations at Santa Fe's Tent Rocks, as organized by Encantado, which also offers private backcountry hiking, fly-fishing and snowshoeing in the pristine Valles Caldera natural reserve.
Inspired by Auberge Resorts' Napa Valley roots, Auberge Adventures culinary programs include:

Artisan Workshops curated by Auberge du Soleil, offering hands-on classes in Cheese-Making, Sausage and Salami-Making and Bread Making;
Calistoga Ranch's Wine and Food Sensory Exploration: A day-long epicurean immersion featuring a private class at Napa Valley's Culinary Institute of America, a private session in wine-blending at Constant Diamond Mountain Winery, culminating with a private master class with Executive Chef Christian Ojeda and dinner;
Auberge Adventures programs last from two hours to one full day, depending on the experience. Prices vary, and some activities are complimentary to guests, while others range up to $2,000 per person. All programs can be arranged directly through the concierges at each Auberge resort. For more information about each property's collection of Auberge Adventures, please visit the resort's web site.
About Auberge Resorts
Auberge Resorts is a collection of exceptional hotels, resorts and private clubs, each with a unique personality that assures a memorable guest experience. While Auberge Resorts nurtures the individuality of each establishment, all are characterized by a set of communal elements: intimate, understated elegance; captivating locations that inspire exceptional cuisine and spa experiences; and gracious yet unobtrusive service. Among the Auberge collection of distinctive properties are: Auberge du Soleil, Napa Valley, Calif.; Calistoga Ranch, Napa Valley, Calif.; Solage Calistoga, Napa Valley, Calif; Encantado, Santa Fe, New Mexico; Esperanza, Cabo San Lucas, Mexico; The Inn at Palmetto Bluff, Bluffton, S.C.; Hotel Jerome, Aspen, Colo.; Auberge Residences at Element 52, Telluride, Colo.; and Auberge Residences at Mammoth, Mammoth Lakes, Calif., with several others currently in development. For more information about Auberge Resorts, please visit http://www.aubergeresorts.com Follow Auberge Resorts on Facebook at facebook.com/AubergeResorts and on Twitter at @AubergeResorts
###