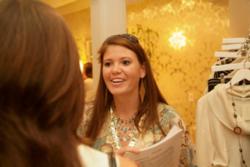 I simply went to the site and emailed the first five sitters with exceptional profiles and within 2 hours, I had all my date nights for the month set – including Valentine's Day," Says Allison, mom of three.
(PRWEB) February 05, 2012
Finding a sitter has always been an age-old parental challenge, never mind trying to line up a sitter for Valentine's Day. Your typical sitter has sweet plans of her own and the sophomore next door has basketball practice again. Your parents live out of state and there is no way you are looking on Craigslist. This does not necessarily equal no champagne or romantic dinner for moms and dads wanting to celebrate the big red day. MommyMixer.com, a boutique-babysitting site that specializes in matching affluent parents with quality, college-age sitters, solves this problem in a snap.
The site boasts of being the best babysitter list in town, 59 towns to be exact. MommyMixer has been in operation for over nine years and matched thousands of families with their perfect sitters across the country. For $30 per month and no contract, busy parents from the higher income zip codes can finally find a fabulous sitter with ease.
Why the higher income zip codes? Well, you must pay to play. Sitters these days earn a whopping $12-$25 an hour. College students are savvy and know they can get a pretty penny for babysitting. Brad Nock, a San Diego area dad who finds his sitters through MommyMixer says, "I pay well so these girls will stick around. Most sitters we hire work for us for a few years. They often give up their Saturday nights and school breaks to be with our kids. It is well worth our investment in them."
All subscribing members get free access to MommyMixer's ever-famous mixers where moms (occasionally dads too) and sitters get together and do what they do best, mix and mingle at hip, local boutiques. "There is something old fashion but so effective in meeting all of these girls at once. I know immediately who is a good fit for our family and who is not just by watching their body language. It really is the best way to meet multiple sitters at once." Says mom of three, Carla Connelly in Austin.
MommyMixer does whatever it takes to find their busy clients their perfect help. The company will email or text sitters for busy families to get their needs all lined up. MommyMixer refunds all fees if a parent is unhappy with the service. MommyMixer was founded by a Dallas area mom of four for the sole purpose of helping to make moms' lives a little easier. With all that busy moms have on their plates today, this is no doubt an admirable but not impossible mission.
Allison Hurst, a mom of three girls in Dallas says, "I simply went to the site and emailed the first five sitters with exceptional profiles and within 2 hours, I had all my date nights for the month set – including Valentine's Day. It could not have been easier and hands down this is the best babysitter list I have ever seen."
"These college age sitters are the perfect mix of energy, responsibility, manners and class. Their site rating system rewards sitters that use great manners, do not have visible tattoos or piercings, and ask what else they can help with before they leave. They are great role models for my girls.," said Lane Johnston, an Atlanta area mom of four kid.
A little help at home goes a long way. Everyone has heard the old clichés, "Happy wife. Happy Life" or "When mama is not happy, no one is happy." Throughout time, these clichés' will always ring true. Finding a sitter is the best start to making a fabulous Valentine's Day date happen and is certain to make both mom and dad happy. Finding great help for busy families is what makes MommyMixers' clients happy. It is this happiness that fuels this unique business' expansion.
###