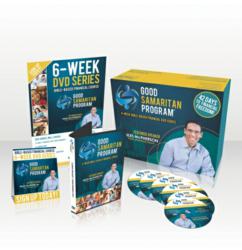 ...saving them each an average of $10,000 in interest payments...
San Diego, CA (PRWEB) February 03, 2012
More than 800 churches have enrolled in the Good Samaritan Program financial course since its official debut in April 2011. During that time, Christian Credit Counselors was able to help more than 100 church members take control of their finances and enroll in the Debt Management Plan, saving them each an average of $10,000 in interest payments and getting them out of debt years sooner.
In an interview aired on Good Samaritan Program TV on Tuesday, Samantha Rios, Good Samaritan Program Administrator, gave viewers several program updates and shared advice for running a successful course at one's church.
Rios shared the fresh, new look of the program materials, with featured speaker Pastor Miles McPherson front and center. McPherson is the senior pastor of the Rock Church in San Diego, one of the largest and fastest growing churches in the United States. The facilitator access area on the Good Samaritan Program website also had a facelift to allow for better visibility and usability.
"That's what we're trying to do," Rios said. "To make this as easy as possible to run and to participate."
Although the program has only been available for 10 months, many church members are already using the practical teaching provided to get their financial lives on track.
"Every week you're getting little tid-bits of information," Daniel Justman, a member of C3 San Diego, said. "On their own they're great tips that you can apply to life, but when you put it all together it is just a wealth of knowledge that really makes a difference."
As an added benefit of the program, church members have the opportunity to call Christian Credit Counselors to find out if they can have their interest rates and monthly payments lowered on their credit cards, allowing them to eliminate their debt and begin saving sooner.
The Good Samaritan Program will also be a sponsor of the C3 Global Conference in Dallas February 15-17 with Pastor Ed Young and Fellowship Church. The team will be attending the conference to further spread the word about their free financial course for churches.
To watch the full interview with Samantha Rios, visit the GSP TV ministry page on FaithChannel.com.
About Good Samaritan Program:
The Good Samaritan Program is a free Bible-based financial education DVD series created by Christian Credit Counselors to help every Christian in every church get out of debt in less time. The series covers God's purpose for one's finances, budgeting, saving, investing and giving and tithing. For more information about running the Good Samaritan Program at your church, visit http://www.goodsamaritanprogram.org or call 866.907.5030.
About Christian Credit Counselors:
Christian Credit Counselors is a 501(c)3 non-profit organization that was created in order to help individuals and families regain control of their finances through the use of educational tools, credit counseling and other resources. Christian Credit Counselors is headquartered in Carlsbad, CA. For more information, call toll free 800.557.1985 or visit http://christiancreditcounselors.org
###