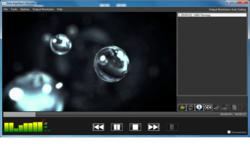 ...the turnkey ArgoNavis multi-screen MPEG-2 H.264 4:2:0/4:2:2 encode is highly cost-effective at under $6,000/system. The ability to intuitively and rapidly integrate it into existing work processes... makes it a compelling solution.
Clearwater, FL (PRWEB) February 03, 2012
Vela Research today announced its ArgoNavis Universal family of multi-format, multiscreen video encoders, decoders and professional video equipment. The ArgoNavis Universal Encoder is a powerful new entrant into the field of video encoders, designed to meet and exceed the expectations of broadcasters, cable operators, IPTV and other demanding users in the content distribution, ad insertion, VOD, local origination, healthcare and education markets worldwide.
The ArgoNavis Universal Encoder is an advanced professional encoder with the ability to encode in SD and HD, in MPEG-2 or MPEG-4 H.264 formats. The system comes in a 1.5 RU turnkey system form, and encodes with a wide range of parameters designed to effectively satisfy a full spectrum of eventual uses. Kevin McDowell, Vela's Director of Sales, said "the ArgoNavis Universal Encoder is highly cost-effective, at under $6,000 per system. The ability for customers to easily, intuitively and rapidly integrate it into their existing work processes and start generating the highest quality encoded files across a wide range of resolutions, bitrates, formats and ancillary data specifications makes it a compelling solution for many of our valued customers." Detailed product specs can be found here.
Commenting on the specifications of the ArgoNavis encoder, Kevin Grubbs, Vela's Director of Engineering said, "this system supports HD MPEG-4 H.264 and MPEG-2 encoding in real-time at 1920x1080i and 1280x720p resolutions at both NTSC and PAL frame rates, and 1920x1080p encoding at the Cinema/BluRay frame rate. This solution addresses the needs of users across the NTSC and PAL domains, and offers a full range of input/output options. It supports 608/708 CC capture from VANC or Line 21 CC from analog VBI. The ArgoNavis Universal Encoder also comes with an optional SDI & VANC Monitoring module and Closed Captioning Verification functionality."
Kevin Grubbs went on to say, " we have built in a great deal of flexibility into the ArgoNavis encoder system's software and user interfaces, allowing our users to control their applications through VTR/device control for frame accurate encoding, as well as the ability to use touchscreens, foot switches – or traditional controls such as mouse and keyboard."
Mike Reddy, Vela's President said, "the Vela team is thrilled with our roll-out of the ArgoNavis Universal series. It has been quietly in use by several of our broadcast and cable customers in the US, with outstanding results to-date. For 18 years, Vela has been known for high-performance solutions that met the most demanding requirements of customers in broadcast, cable and professional video worldwide. We look forward to continuing that tradition with the ArgoNavis products that will offer significant flexibility and versatility, while focusing on meeting the most stringent of our customers' requirements – and do so at a very affordable price."
Users with interest in further information or a desire to test-drive the ArgoNavis encoding solution are invited to contact Kevin McDowell at 954-558-2063 [kmcdowell(at)vela(dot)com].
###