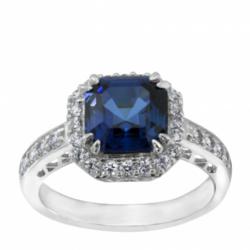 The Anastasia gets a lot of attention here in the store. The halo around the sapphire adds a lot of sparkle
(PRWEB) February 03, 2012
The Anastasia Women's ring, a top-selling ring for the holidays, features a 2.04ct Asscher cut Sapphire center stone with 2.80 total carat weight. It is made of their affordable Lorian Platinum and the Diamond Nexus stones which are guaranteed for life. "Due to customer requests, it is being brought back for an exclusive in-store sale for only $99," noted Kyle Blades, Director of Marketing.
"This is one of our most popular rings and now as a special offer to customers visiting our stores, this weekend only, they have an opportunity to purchase the ring at an unbelievably low price," Blades commented.
The exclusive sale begins Friday, Feb.3rd and goes through Feb.5th. Customers visiting either of the locations will be able to purchase the Anastasia at the extraordinary price. "The Anastasia gets a lot of attention here in the store. The halo around the sapphire adds a lot of sparkle" commented Andrew Barr, Sales Associate at the Milwaukee location.
Diamond Nexus currently has two retail locations for customers to visit. The flagship store is located at the Woodfield Mall in Chicago, IL. The Milwaukee, WI store is situated in the Mayfair Mall. Interested visitors can go to this link for information on store hours and directions: http://www.diamondnexus.com/customer-service-retail-locations.html
Diamond Nexus was founded in 2004 with the purpose of bringing to the public the powerful benefits of the diamond simulant revolution. They have over 200,000 customers worldwide that have awarded them an "A+" rating with the BBB, and are rated a top ten online jewelry store according to the IR500 list. For two years in a row brides from The Knot have selected them as their Best of Jeweler. Diamond Nexus currently has two retail locations: their flagship store at Woodfield Mall in suburban Chicago, Illinois, and a second store at Mayfair Mall in Milwaukee, Wisconsin. In 2009 the company was named the official jeweler and crown maker of the Miss Universe Organization as part of NBC/Universal's "Green is Universal" environmental initiative.
###